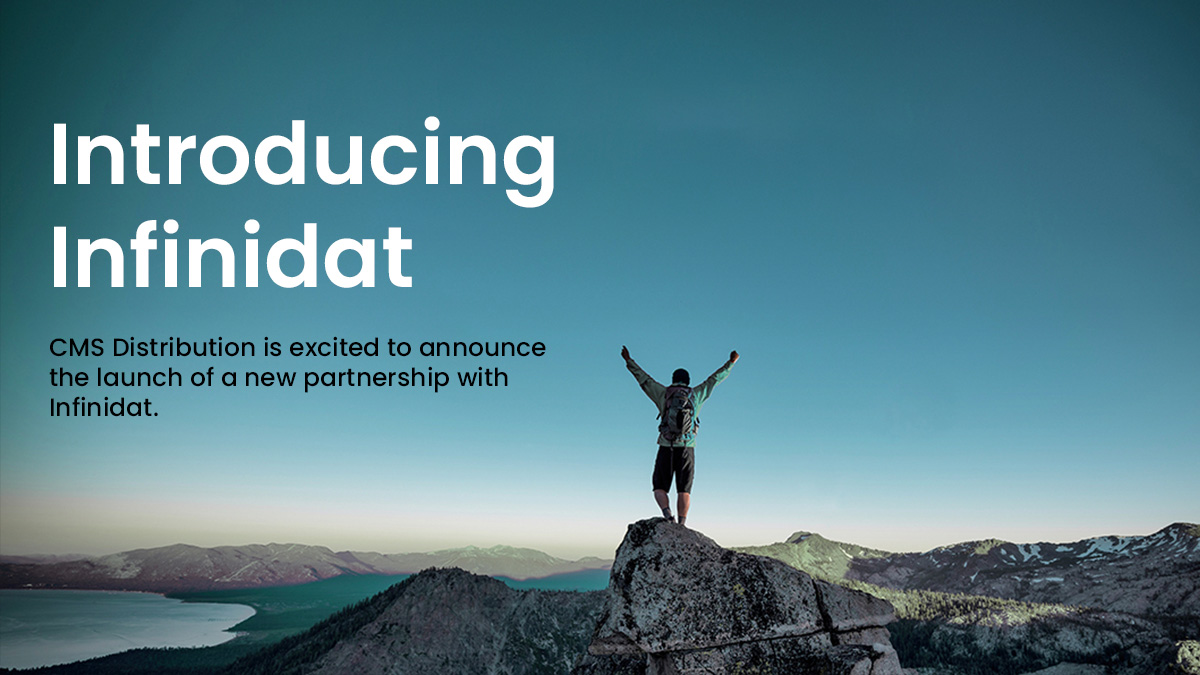 London, UK, 26th October 2022:
CMS Distribution has partnered with Infinidat to offer their software-defined storage architectured enterprise solutions to CMS partners and customers throughout the UK and Ireland. Infinidat is a leading provider of enterprise storage solutions and helps enterprises and service providers empower their data-driven competitive advantage at scale.

The Infinidat team spans generations of storage industry experience and with previous product successes has become an industry leader. They have done this by developing a better and faster way to store and protect multiple petabytes of data, with the highest possible availability and comprehensive cyber storage resilience, all at the lowest possible cost.
CMS specialises in taking emerging technologies to market whilst growing established brands using a range of value-added services. Infinidat has truly disruptive solutions offering high capacity, high-performance, cyber resilience, and flexible storage, powered by AI.
CMS Distribution is known for bringing innovative technology to its customers and Infinidat is a fantastic addition, bringing a real alternative to traditional storage vendors to the CMS portfolio. Together, CMS and Infinidat are trusted advisors within the IT industry and will offer the highest levels of service and knowledge to both partners and their clients.

"I'm very excited to be working with Infinidat. This is a product developed by some of the most respected people in the storage industry, and ranked as a leader for the fifth consecutive year in the 2022 Gartner Magic Quadrant for Primary Storage. This is a truly innovative product that tackles the challenges of traditional tier 1 storage and can be a real disruptive force with large scale storage customers who want resilient, high-performance storage," said Stefan Ferrari, Enterprise Solutions Manager at CMS Distribution.

Lee Bushnell, Infinidat's Channel Manager UK & Ireland, stated "Infinidat engages with strategic channel partners who share our values and who have proven enterprise storage expertise. We are very excited about our new partnership with CMS and their broad partner community. This collaboration ensures we have additional expert resources to better support UK enterprises with the highly available, unmatched performance, cyber resilient, cost-effective enterprise storage solutions that award-winning Infinidat is renowned for."

About CMS Distribution

Since 1988, People, Technology and Exceptional Service have been at the heart of CMS Distribution. We take great pride in seeking out innovative technologies that deliver cost-effective solutions, enabling our trade-only customers to succeed.
Our business represents 200+ manufacturers and we sell to a "glocal" customer base made up of corporate resellers, managed service providers, high street and online retailers ranging from large multi-nationals to smaller, independent IT companies.
At CMS, we specialise in finding and delivering emerging technologies to market whilst growing established brands using a range of value-added services.

About Infinidat

Infinidat helps enterprises and service providers empower their data-driven competitive advantage at scale. Infinidat's software-defined storage architecture delivers microsecond latency, 100% availability, and scalability with a significantly lower total cost of ownership than competing storage technologies. The company offers an award-winning portfolio of enterprise storage solutions for primary and secondary storage deployments. The corporate headquarters are based in Herzliya, Israel, and U.S. headquarters in Waltham, Massachusetts. For more information, visit www.infinidat.com.

----------
For more information, please contact:

Stefan Ferrari – Enterprise Solutions Manager

stefan.ferrari@cmsdistribution.com

Nick McCall – Product Sales Manager – Enterprise

nick.mccall@cmsdistribution.com

Main Tel: +44 (0) 208 960 6000
Website: www.cmsdistribution.com