Leave cyber attackers nowhere to hide
The Rapid7 Insight cloud equips you with the visibility, analytics, and automation you need to unite your teams and work faster (and smarter). Security, IT, and Development now have one-click access to vulnerability management, cloud application security, incident detection and response, automation, and more.
With the Rapid7 Insight cloud, you can:
Unify Data Collection
Collect data once from across your IT environment, enabling your Security, IT, and DevOps teams to collaborate effectively as they analyze shared data.
Scale with Ease
Expanding your use of the Insight cloud to include multiple solutions is easy. Once your data collectors are installed, launching new Insight products is just a few clicks away.
Integrate Seamlessly
Get faster analysis, prioritization, and remediation, with your existing tools. The Insight cloud integrates with your existing technology stack, acting as a force multiplier to already-deployed solutions.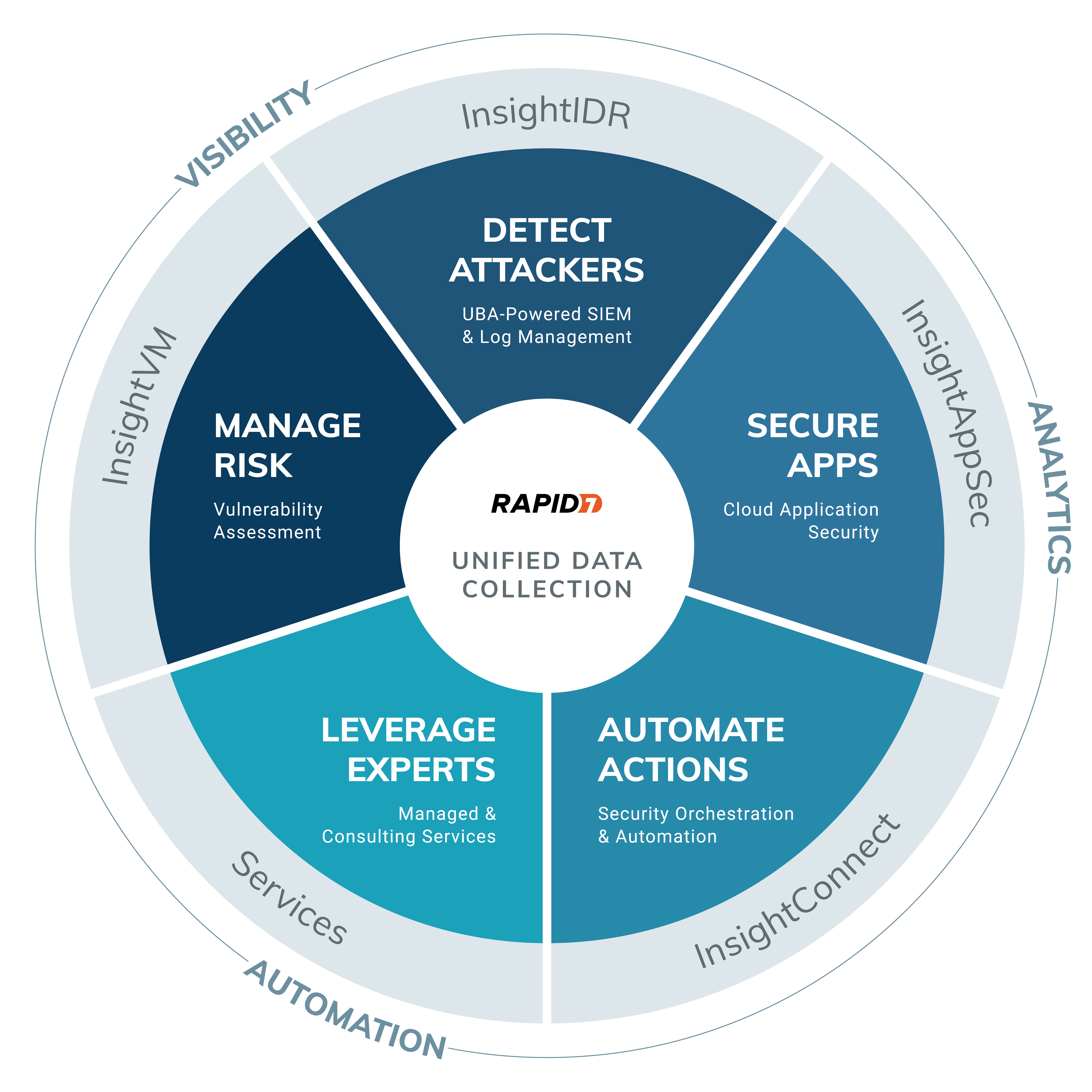 The core of the Rapid7 Insight cloud: 
InsightVM gives you live vulnerability management and endpoint analytics to view real-time
risk by automatically assessing and understanding risk across your entire infrastructure. Its key features are:
Lightweight Endpoint Agent
Live Dashboards
Real Risk Prioritization
IT-Integrated Remediation Projects
Cloud and Virtual Infrastructure Assessment
Attack Surface Monitoring with Project Sonar
Container Security
Integrated Threat Feeds
Goals and SLAs
Easy-to-Use RESTful API
Automation-Assisted Patching
Automated Containment
InsightIDR unifies UBA, SIEM, and EDR technology so you can prioritize your response efforts. Make better decisions across the incident detection and response lifecycle, faster. InsightIDR includes:
User Behavior Analytics
Attacker Behavior Analytics
Endpoint Detection and Visibility
Centralized Log Management
Visual Investigation Timeline
Deception Technology
File Integrity Monitoring (FIM)
InsightAppSec stays in step with your application development to easily introduce security throughout your SDLC. InsightAppSec automatically crawls and assesses web applications to identify vulnerabilities like SQL Injection, XSS, and CSRF.
The Universal Translator
95+ Attack Types
Attack Replay
Powerful Reporting for Compliance and Remediation
Cloud and On-Premises Scan Engines
Scan Scheduling and Blackouts
InsightConnect unites your technology stack through custom workflows to accelerate security and IT processes. Accelerate and streamline time-intensive processes—no code necessary. With 200+ plugins to connect your tools, and customizable workflow building blocks, you'll free up your team to tackle other challenges, while still leveraging their expertise when it's most critical. Here's how you'll do it:
Connect Your Tools
Build Automated Workflows
Utilize Human Decisions
Improve Operational Efficiency
Rapid7 Services act as an extension of your team to help you reduce risk and detect and respond to attacks.