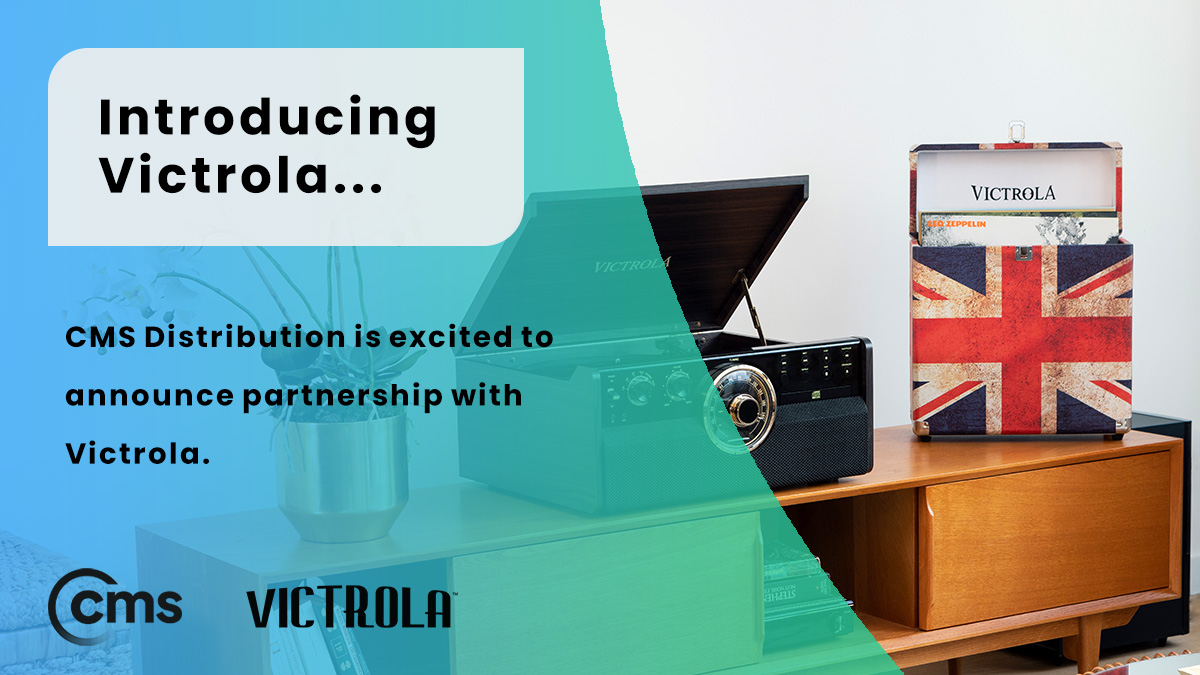 London, UK, Monday 25th April 2022

CMS Distribution is thrilled to announce the launch of their latest partnership with Victrola, a consumer electronic brand specialising in turntables and other audio products designed for music.

Founded over 100 years ago, Victrola is an industry-leading turntable manufacturer seeking to 'marry the sophistication of yesterday with the technology of tomorrow'. Victrola's values are centred on quality, versatility, integrity, style, community, and timelessness.

Comprising of record players, music centres & accessories, Victrola's product library sports a comprehensive range of audio products aiming to create memories of music for a lifetime. Victrola's carefully engineered audio selection is also renowned for its choices in styles - ranging from vintage wooden finishes to modern sleek designs to suit all kinds of music listeners.
Victrola's long-established presence and outstanding portfolio of audio solutions are an invaluable addition to CMS.
Danny Jackson, Product Sales Manager at CMS distribution on the partnership: "We are delighted to be working with such a historic brand as Victrola. For over 115 years, Victrola have been producing music solutions that not only sound fantastic, but are also beautifully designed to suit retro and modern lifestyles. 'Making lifelong music memories in every home' is Victrola's mission statement and we agree!

Phillippe Renan, Head of EMEA Division at Victrola added: "We decided to select CMS as our new strategic UK partner after phase 2 of our European development. We were impressed by the track record of this company, especially regarding the EU Amazon e-Commerce management.
What we admire most about the CMS team is that, before all the quality of a strong and mature distribution company, they develop and maintain vendor relationships, in order to drive business growth.
Addressing the UK market can be challenging; however, we see the benefit of working with CMS every day, and we know the best is still to come, especially after the peak sales in Q4. Our new Victrola innovations, with the CES 2022 Awards, will create great momentum in the audio market this year and we know CMS will achieve incredible results.

About Victrola
Victrola, the famous vinyl turntable brand, takes you on a journey through time. The American brand launched its first turntable in 1906. After more than a century, it is still making history by reviving unforgettable musical memories all over the world. The Victrola name has always been synonymous with quality and innovation. The brand's products take listeners on a journey through time, from vintage record players up to innovative all-in-one audio systems. Victrola demands that elegant design should go hand in hand with sound quality. Its own all-in-one audio system brings music from every era to the whole family, to the delight of young and old.

About CMS Distribution
CMS Distribution is a value-added IT distributor of business and consumer technology products. A trade-only organisation creating global markets for 150+ manufacturers, CMS sells to corporate resellers, managed service providers, high street and online retailers. CMS Distribution specialises in taking emerging technologies to market, whilst growing established brands using a range of value-added services. With a team of 485+ people and annual sales in excess of £600m, CMS accelerates growth for their partners from 12 locations in 8 countries including, the UK, Ireland, France, Netherlands, Sweden, China, the USA and now Germany.


------------------------------------------------------------------------------------------------------------


For more information, please contact:

Danny Jackson – Product Sales Manager
danny.jackson@cmsdistribution.com

Nick Bailey – Director of Vendor Alliances
nick.bailey@cmsdistribution.com

Main Tel +44 (0) 208 960 6000
Website www.cmsdistribution.com



RELEASE ENDS