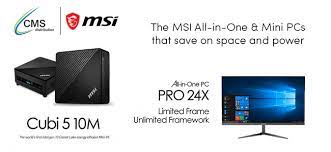 Today, most people can't live without a computer, however require space savings, power and flexibility all from a single desktop computer – here's the solution: an All-in-One or Mini PC.
THE ALL-IN-ONE PC
A normal computer consists of monitor, CPU and its other components but an All-in-One computer consists of everything built into the monitor. The All-in-One computer (AIO) is easy to place and easy to use, as well as taking up less space and has fewer wire connections.
The AIO PC is the perfect solution for a number of public services sectors such as Education and Healthcare, being space saving, power efficient, which helps the environments and saves on electric costs.
3 REASONS TO OWN AN ALL-IN-ONE DESKTOP COMPUTER
1. Save space
The AIO computer has several distinct advantages over the traditional desktop computer. As noted, it has a slimmer design that takes up less overall space than the bulkier tower and monitor configuration.
Many offices struggle to find places to put the computers, so they may end up on the floor, in a dusty cabinet, or in-hard-to-reach places within the work cubicle. When you consider that some businesses have hundreds – if not thousands – of desktops to store, and ultimately must turn to computer disposal, switching to an AIO PC can save significant space.
2. Pleasing to the eye
The AIO is often purchased with size in mind, so its design is a bit more aesthetically pleasing in colour and finish than many traditional desktop computers.
3. Save on energy and maintenance
Many of the headaches that traditional desktops cause can be resolved by switching to an AIO computer. Dusty, loud, and power-hungry desktop towers can get noisy and create unwanted heat.
MSI AIO computers combat these issues by being energy-efficient, allowing them to keep things quiet and not give off the type of heat that comes from their larger, often clunkier counterparts.
Keeping an AIO dust-free is also easier since the unit sits on the desk where it's easily within cleaning reach. With fewer ports and openings to tend to, these sleeker and smaller computers can be wiped down and cared for with minimal effort.
THE MINI PC
The market for mini desktop computers has grown dramatically over the past few years. While many people choose the large gaming PC builds, however as they are not for everyone, MSI have developed the Mini PC, which is a compact system, whilst still having a fast processor. The Mini PC is an ideal solution for many different applications, this micro form factor PC is a fantastic solution for projects including powering digital signage or to "Go Green" in the office and save on power bills. Not forgetting they are space-saving, more affordable than a full system and have other benefits like being quieter, cooler running and portable.
4 ADVANTAGES OF OWNING A MINI PC
A mini-PC has a number of advantages over a regular desktop PC or notebook or even tablet.
1. Size
This is the obvious advantage. Depending on the model, can be as small as a novel or jewellery box, sometimes even smaller. You can tuck the PC away where it is essentially invisible and save a significant amount of space.
2. Versatility
A Mini PC can have all the power of a standard desktop PC and components such as the RAM and hard drive can easily be changed. Additionally, hook it up to a screen of choice, whether that is a regular monitor, open frame display, or a TV screen.
3. Cost
Mini PCs are more affordable and very cost effective to operate.
4. Energy consumption
These devices use the latest developments in energy saving technology to run on less power and reduce heat.
SUMMARY
It's clear the benefits of an AIO & Mini PC provide a de-cluttered workspace with their space saving designs, provide cost savings with their energy-efficient technology along with their flexibility and versatility.