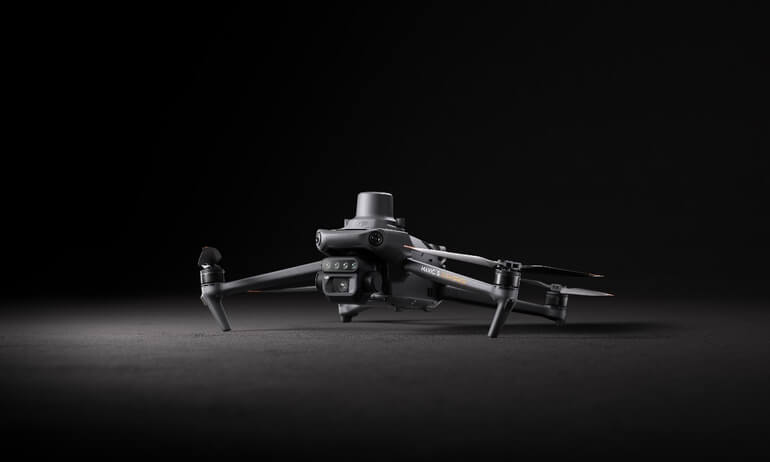 'CMS Distribution first in uk & ireland to get hands on the dji mavic 3'
A few months back DJI launched the Mavic 3 Enterprise and Mavic 3 Thermal. Both platforms are a new generation of portable and compact enterprise drones.

The Mavic 3E is engineered for precision drone surveying and really compares to the Phantom 4 RTK, while the Mavic 3T is especially suited to public safety, search and rescue and inspection missions and an upgrade to the M2EA. The Mavic 3 Multispectral enables you to See More & Work Smarter and is an upgrade to Phantom 4 Multispectral!
This week CMS Distribution got our hands on the latest addition to the DJI Mavic 3 Enterprise Series, The Mavic 3 Multispectral. The first to do so in UK and Ireland.
'Multispectral camera'
Effective aerial surveying needs to see the invisible. That's why Mavic 3 Multispectral has two forms of sight. It combines an RGB camera with a multispectral camera to scan and analyze crop growth with total clarity. Agricultural production management requires precision and data, and Mavic 3M delivers both.
- Extended flight time 43 Minutes
- Realtime NDVI
- 4 x 5MP spectral bands (Green, Red, Red-edge, Near-Infrared)
- 20 MP & 4/3 CMOS, mechanical shutter
- RTK with centimetre-level accuracy - millisecond sync.
- DJI SmartFarms software
The new DJI Mavic 3 Enterprise Series is compact, portable, powerful, and extensive – redefining standards for small commercial drones and driving forward a new era of lightweight operations.
CMS Distribution are proud to have the first of these drones in UK and Ireland and is available now.
If you have any questions about the abilities of the DJI Mavic 3 Enterprise Series, or would like some further information on how to get your hands on one of these, please reach out to one of our Account Managers here at CMS.