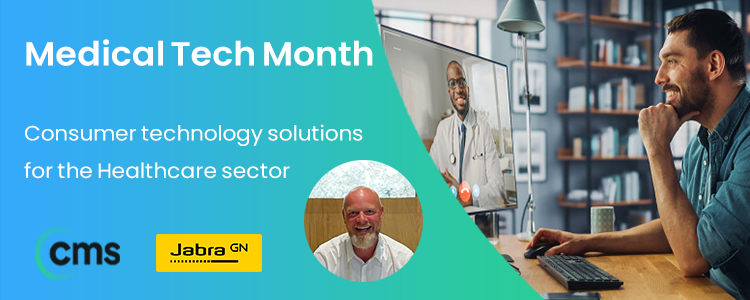 Matt Clark, Head of Public Sector, Jabra for Medical Tech Month at CMS Distribution
How has the consumer technology industry evolved to meet the demands of telemedicine and telehealth in the COVID era? Can you give examples of Jabra products that have directly enhanced the healthcare sector in achieving this transition?
In recent years, an abundance of new telemedicine and telehealth applications have surfaced. They offer everything from remote monitoring for chronic disease management to home diagnostics of day-to-day symptoms. In combination with virtual consultations, increasingly offered during and following the COVID pandemic, these tools can allow for more flexible and more accessible healthcare. Consumer devices increasingly incorporate basic vital signs monitoring to support this approach to patient care.
In GN, we've been in the world of health for decades, through our world-leading hearing aid technology under the ReSound brand, and also active and sports consumer products under the Jabra brand. Increasingly over the past couple of years, we've also seen strong demand for enterprise-grade audio and video technology for telehealth. Online consultations are here to stay, and the quality of patient interactions relies heavily on having the proper equipment to be seen and heard.
GN Group and Jabra have a long-established presence in the medical tech world, how has this experience in designing hearing aids helped develop better consumer tech products?
In GN, we develop medical, military, professional, and consumer-grade products – all under one roof. Doing so gives us the technological edge we need across all products, as well as a close understanding of the end-user needs. As an example, hearing aids require very small electronic designs, with high power efficiency to optimise battery life, and must be comfortable to wear all day. Our understanding of the ear and how sound is perceived and picked up helps us develop world-leading headsets for communication and collaboration in businesses, clinics, schools, etc.
Has the knowledge of hearing aid technology influenced the development of any Jabra headsets?

A very tangible result of the collaboration across our company is the recent announcement of Jabra EnhanceTM Plus (available for sale in the US / APAC regions only) – miniaturised earbuds for hearing enhancement, music and calls. They are developed for the many people living with mild to moderate hearing loss, who may not find themselves fit for a hearing aid. It's been specifically engineered to help bridge the average 6-year gap between first noticing some hearing loss, and actually seeking help. At the same time as enhancing hearing, this product uses 4 dedicated microphones to reduce background noise and improve speech clarity. It is the expertise of professional headset and medical-grade hearing aid engineers coming together to solve a problem.
What are some challenges in the communication of patient health data vis-a-vis security and privacy? How do Jabra products approach these concerns?
Patient data privacy and security is of utmost importance, and in particular with the growth of telehealth, something that many providers are paying more and more attention to. Our headsets and speakers do not store conversation data, so do not pose a privacy challenge in this regard. However, our products do transmit whatever is said, and in doing so, we offer the industry's best encryption level in our Jabra Engage DECT wireless products, with 256-bit AES encryption. These products are designed with the government and financial sectors in mind but are just as relevant for healthcare applications, where flexible, wireless solutions are needed, without compromising security. We have also designed a push-to-talk solution for some of our headsets, which only allow for transmission when a button is pushed. This limits any accidental communication "leakage" if a headset is not muted. Lastly, our solutions offer noise cancellation and strong background noise suppression, which means that potentially sensitive conversations being held nearby will not be picked up and audible on the other end.
With the rise of e-consultations and hybrid working models, the trend of virtual healthcare is likely to sustain itself. How can healthcare workers leverage Jabra products to ensure flexible, collaborative, and uninterrupted communication?
Healthcare is moving increasingly online, and the medical sector is facing an unprecedented demand to adapt. The need for outstanding technology solutions that keep patients and healthcare practitioners connected has never been greater. As you navigate bringing healthcare online, technology has a key role to play in ensuring vital services are kept to a high standard. The right devices help to ensure practitioners are always connected, both to their patients and to each other.
With the Jabra portfolio of professional-grade audio and video collaboration tools, healthcare professionals can utilise exceptional equipment to deliver outstanding care. The Jabra PanaCast 20 can be particularly effective in a doctor / patient scenario where the 4K Ultra HD camera provides crystal clear images. Whether it be high definition, intelligent 180 video technology the Jabra PanaCast 50 shows the whole treatment or lecture theatre. Headsets inclusive of the BlueParrott range are engineered to keep practitioners out in the field connected, or high performing headsets such as the Jabra Evolve2 range that delivers world-leading call performance. With maximum flexibility and portability, plug and play functionality for instant connection anywhere, and compatibility with all leading communication platforms, Jabra products are designed to work in that collaborative and uninterrupted communication space to support the healthcare industry.
Is there any else you'd like to mention with regards to the future of the medical tech industry and Jabra's consumer tech solutions for the healthcare sector?
In order for technology to be truly impactful, it has to become an integral part of the overall healthcare offering and aim. Consumer devices alone will not transform how healthcare is delivered but can be a strong enabler. We must invest in our healthcare systems, in technology, training and restructuring of processes, reimbursement schemes, or other structures to allow for telehealth to play a much bigger part. Many healthcare practitioners felt somewhat left on their own during the early days of the COVID lockdown and suddenly had to shift a lot of patient care online from nearly one day to the next. Providing these critical frontline experts with the basic tools to work virtually and stay connected with patients is a core component of meeting the ever-increasing demand for healthcare services.
Find out more about Jabra and our range at the link below