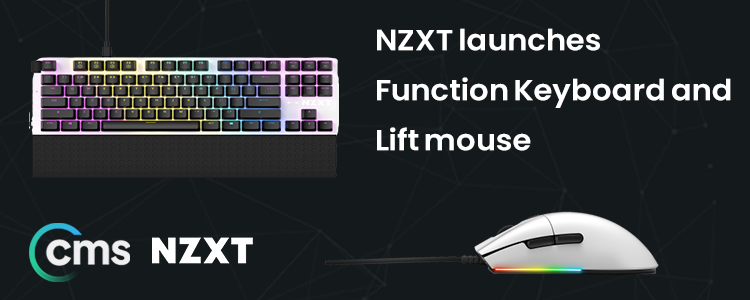 March 15th, 2022 - Los Angeles, CA
NZXT, a leader in PC gaming hardware and services, today announces a new step into the peripheral market with the Function Modular Mechanical Keyboard and the Lift Lightweight Ambidextrous mouse. NZXT will also be adding a deeper customisation service to NZXT BLD allowing users to ensure their system and set-up can fit their unique style.
The NZXT Function keyboard is a low-profile keyboard with an aluminium body designed to allow users to tailor their experiences to fit their personal preferences. It includes customisable features that the custom keyboard community looks for, like hot-swappable switches, detachable USB-C cable, and standard bottom rows. This allows users to finely tune their board to their exact colour, sound, and feel.
The NZXT Lift lightweight ambidextrous mouse is a minimalist mouse designed for gamers. Each Lift mouse is packed with a High-end PixArt 3389 optical sensor and Omron switches which allows for the speed and ease of use that keeps players competitive. Both products have RGB lighting that is controllable via NZXT CAM, allowing for further customisation so that users can match their system lighting and peripheral lighting with ease. Additionally, mouse pads will be on sale on NZXT.com and at local retailers in three sizes and colours for further customisation of their setup.
In countries where NZXT BLD is present users can customise their Function Keyboard, for a $9.99 service fee, and Lift Mouse and have them shipped to them directly. It will allow users to change their base colours, switches, accent keycaps, and cable colours and have them shipped to you with options not available found in retail Function keyboards. And allow for Lift mouse users to purchase a mouse with an accent colour and cable of their choosing.
Features (Function Keyboard)
ULTIMATE CUSTOMISATION
Change to any MX-compatible switch thanks to hot-swappable sockets at every key switch position.
CAM-POWERED
CAM makes it easy to customise per-key RGB, macro-control, and lighting effects with four onboard profiles.
SIMPLE AND SLEEK
Durable aluminium top plate with a low-profile design. Low profile chassis | Four onboard CAM-powered profiles
MADE FOR MODULARITY
Standard bottom row keyboard design enables users to install any standard aftermarket keycaps. The removable USB-C cable is ready for customisation. Standard bottom row design with MX compatible hot-swappable sockets.
Features (Lift Mouse)
LIGHTWEIGHT DESIGN
The lightweight design enables fast and accurate movements for better in-game performance. This also leads to fewer instances of hand fatigue, providing comfort during long gaming sessions.
HIGH-SPEED TRACKING
The high-end PixArt 3389 optical sensor adds high-speed tracking and accuracy with a 16k resolution for a competitive advantage.
MINIMAL DRAG
The paracord cable provides minimal drag and unrestricted mouse movement for smooth in-game performance.
20-MILLION CLICK LIFETIME
Omron mechanical switches on all buttons stand up to wear and create long-lasting durability.
Colours
Function
Body: Black, White, (Gunmetal Grey NZXT BLD only)
Keycaps: Black, (Grey NZXT BLD only)
Accents Keycaps (NZXT BLD Only): Yellow, Purple, Blue, Red, Cyan
Accents Cables (NZXT BLD Only: Yellow, Purple, Blue, Red, Cyan
Lift Mouse
Body: White, Black
Accent (NZXT BLD Only): Yellow, Purple, Blue, Red, Cyan
Mousepad
White, Black, Grey
Switches Available for Function keyboard
Retail: Gateron Red
NZXT BLD: Gateron Red, Gateron Blue, Gateron Brown, Gateron Silent Black Ink V2 60g (linear), Gateron Aliaz Silent 60g (tactile)
About NZXT
Founded in 2004, NZXT is dedicated to making PC gaming achievable to all of those with a passion for play. With design in mind, NZXT makes award-winning products that allow for a personalized approach to building PC's. Their first products were computer cases and they have since expanded to include PC cooling solutions, RGB lighting kits, components, power supplies, and their free PC performance monitoring software, NZXT Cam. They have recently expanded to include new categories like Audio featuring the Capsule Microphone and BLD Kit-- an exclusive experience for first-time builders. NZXT also has launched their CRFT line of products, bringing their PC design mindset together with some of entertainment's most popular brands to create limited-edition cases and accessories for gaming enthusiasts. NZXT remains committed to serving the PC gaming community and keeping their needs at the core of who we are.