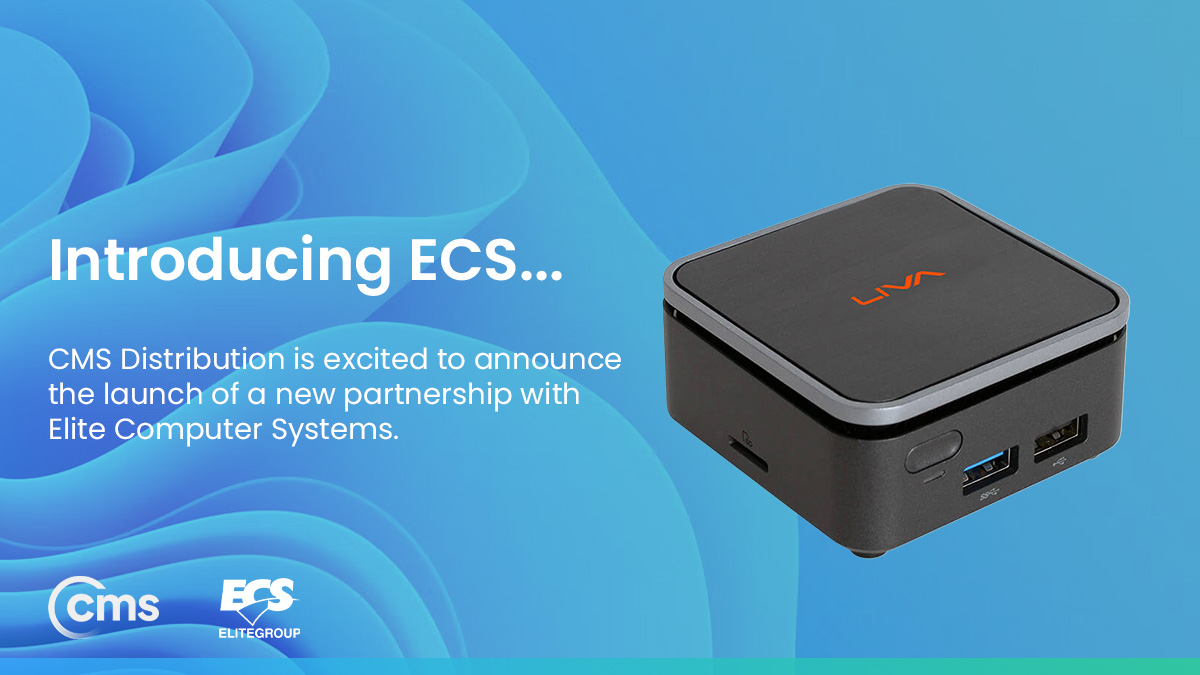 London, UK, Tuesday 15th November 2022,

CMS Distribution has partnered with Elitegroup Computer Systems (ECS) to offer their solutions and products to CMS partners and customers throughout the UK and Ireland.

CMS specialises in taking emerging technologies to market whilst growing established brands using a range of value-added services. CMS Distribution is known for bringing innovative technology to its customers and ECS is a fantastic addition, bringing a real boost to the CMS portfolio. Together, CMS and ECS are trusted within the IT industry and will offer the highest levels of service and knowledge to both partners and their clients.

CMS are delighted to be the sole distributor for ECS in the British and Irish markets providing options for varying markets including digital signage, home and office use and education.

Chris Chen (Head of ECS for Europe), said "ECS is thrilled to announce a great partnership with CMS Distribution.  With this relationship and commitment, we believe we can provide the best product service to professional customers in the application of cloud computing, digital signage and IoT."

Nathaniel Alabaster, Business Development Manager at CMS Distribution added "I'm very excited to be working with ECS and looking forward to seeing what we can build and achieve with this collaboration. ECS' unique range of mini PCs are a really strong addition for CMS and gives us access to a wider customer base, strengthening our ability to provide true end to end solutions. Connecting people to technology has always been our vision and this relationship strengthens our company ethos and promise to our customers."

About CMS Distribution
Since 1988, People, Technology and Exceptional Service have been at the heart of CMS Distribution. We take great pride in seeking out innovative technologies that deliver cost-effective solutions, enabling our trade-only customers to succeed.

Our business represents 200+ manufacturers and we sell to a "glocal" customer base made up of corporate resellers, managed service providers, high street and online retailers ranging from large multi-nationals to smaller, independent IT companies.

At CMS, we specialise in finding and delivering emerging technologies to market whilst growing established brands using a range of value-added services.

About ECS
Elitegroup Computer Systems (ECS) are a leading motherboard, Mini-PC, Notebooks, mobile device and smart city solutions provider, founded in 1987 in Taipei.

ECS' commitment to deliver professional, innovative, high-quality, competitive design and products to meet customer demands and the ever-changing market and technological trends, which shows through their innovative technology advances from develop new technologies, products and manufacturing methods - with every detail being covered.

For more information, please contact:

Email: nathaniel.alabaster@cmsdistribution.com
Tel: + 44 (0) 142 370 4719
Main Tel: +44 (0) 208 960 6000
Website: www.cmsdistribution.com