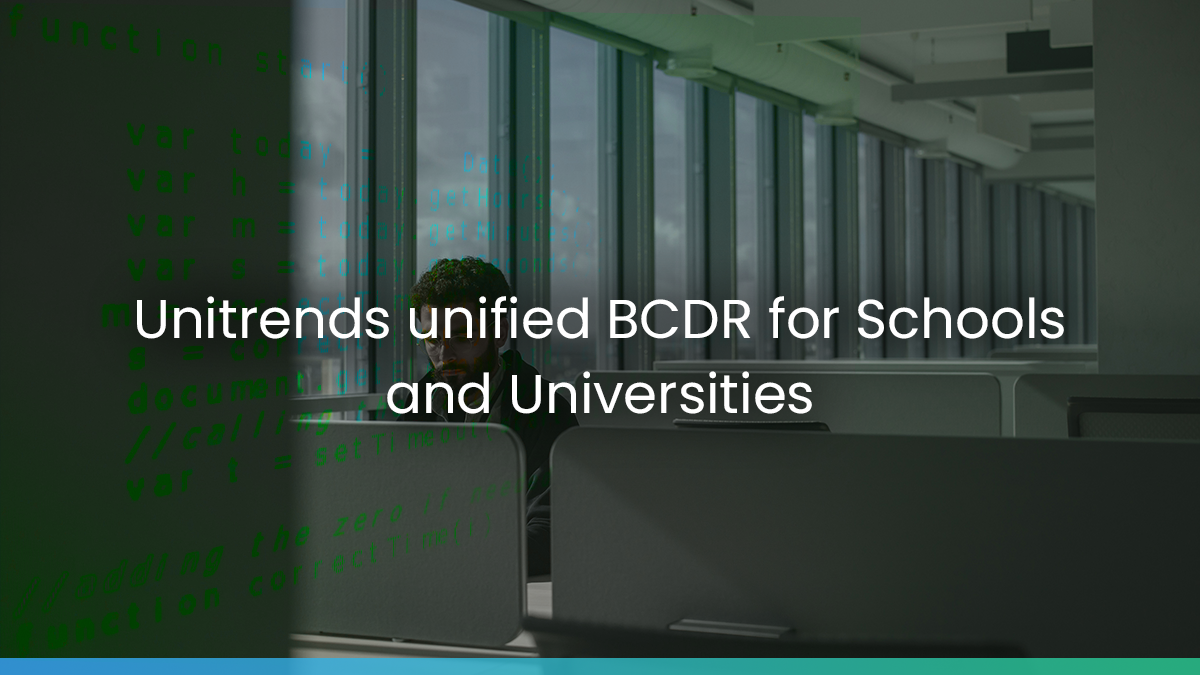 Unitrends solutions for prioritising Cybersecurity in the Education sector
2021 was a year of headline-grabbing cyberattacks. SolarWinds, Microsoft, Colonial Pipeline and Log4j were name-dropped by almost every major journal.
Corporate networks saw a 50% increase in weekly attacks. However, many of these networks were a means to an end as attackers focused on the supply chain. As a result, big companies with comprehensive security were compromised, providing a lucrative payday for attackers.
If big companies with deep pockets failed to save their data, what chance does a small K-12 district or community college have?
Education institutions are under attack
Educational institutions cannot let their guard down when it comes to cybersecurity. Here's why:
Education sees the highest volume of attacks of all industries, an average of 1,605 per organisation/week.
Education witnessed the second-largest growth in number of attacks year-over-year.
As a result of limited budgets, educational institutions are often playing catch-up when it comes to IT security. This, coupled with a trove of rich information on students and faculty, including names, addresses, financial information and health records, makes educational institutions ideal targets for phishing, distributed denial-of-service (DDOS) attacks, malware and ransomware attacks. Unfortunately, IT pros are left to deal with the aftermath. According to findings by IBM Security, the average cost of a data breach in education ranked among the top 10 costliest, with an average cost of $3.79 million per incident in 2021.
Given that Personal Identifiable Information (PII) is the most common asset stolen in a breach (44% of records), the high cost of compromised educational records may in part be due to regulatory and compliance fines. It was found that organisations with high-level compliance failures (resulting in fines, penalties and/or lawsuits) in a breach, faced an average cost 51.1% higher per incident than those with low-level or no compliance failures.
The education sector is struggling
Educational institutions have a weak security posture because they have to manage a large number of untrained remote learners with a limited budget. Due to this, IT pros fall short of delivering proper patching cadences and application and network security.
Here are a few more reasons why the education sector is struggling to keep student and faculty data secured:
Systems are distributed across multiple schools and thousands of devices.

Districts often lack a single application to manage student and employee identity (users having multiple roles within a school system, i.e. teachers, department heads, coaches, etc. further complicating identity management).

The significant change in user population and behaviour annually; a percentage of students graduate, enroll and transfer.

Remote access is now a must; students and parents access school systems with BYOD devices over less-secure WFH networks.

Students with technical skills may attempt hacking exploits for amusement, disruption, personal gain, boredom or even

curiosity.
Then, there's K-12
School districts (K-12) are soft targets for attackers, and cyberattacks have serious implications for students and faculty. Having personal data compromised, like social security numbers, addresses and health records, may result in online harassment, financial and identity fraud, and even impact future college admissions and government grants.
An efficient way of hacking school networks is by targeting school vendors. This provides attackers with backdoor access to a school network. In January, web hosting provider Finalsite was attacked by ransomware, leaving more than 3,000 schools in the U.S. without their websites and other communications services.
Protect data with Unitrends: Whether it's ensuring educational institutions can pivot safely to a hybrid model or recover after a major disaster, Unitrends Unified BCDR platform enables them to prepare for, respond to and recover from unforeseen disruptive events. Unitrends help bolster data backup, disaster recovery and resilience through:
Data loss prevention
The Unitrends Unified BCDR platform is augmented with AI-based features designed to reduce the frequency and severity of security-related incidents. Some of these features include:
AI-based ransomware detection
Unitrends' physical and virtual appliances are equipped with a predictive analytics engine, which uses artificial intelligence and machine learning to analyse every backup. The engine establishes baseline patterns and uses a probabilistic methodology to identify anomalies that symptomatically match the behaviour a system would present if infected with ransomware.
Anti-phishing defence
Automating phishing defence as part of their security stack enables your customers to immediately defend employees from email-based cyberattacks. Three layers of protection, including AI-enhanced trusted relationship profiles, visual banner cues with actionable icons and autonomous email quarantining, empowers their IT with insights into the threats, enabling them to act on suspicious emails and gain a more complete picture of the institute's security posture.
Dark web monitoring
Integrated with Spanning Backup for Microsoft 365 by utilising a combination of human and artificial intelligence, Unitrends' solution analyses more than 600,000 distinct botnets, criminal chat rooms, messages boards and other black market sites. It alerts IT to compromised credentials and potential Business Email Compromise (BEC) attacks, enabling them to act before a breach or attack occurs.
Data protection and recovery
Unitrends solution offers support for more than 250 versions of operating systems, applications and hypervisors. Recovery options range from granular file recovery and instant recovery of physical and virtual servers, to invisible failover into the Unitrends Cloud with Disaster Recovery-as-a-Service. Institutions also get automated, application-level recovery testing with Recovery Assurance. Customisable, automated tests validate the integrity and recoverability of critical machines and services, and proactively detect recovery issues. Reports are automatically generated, documenting performance against SLA compliance goals and proof of service recoverability.
Request a callback from us to learn more about Unitrends solutions for the education sector here.