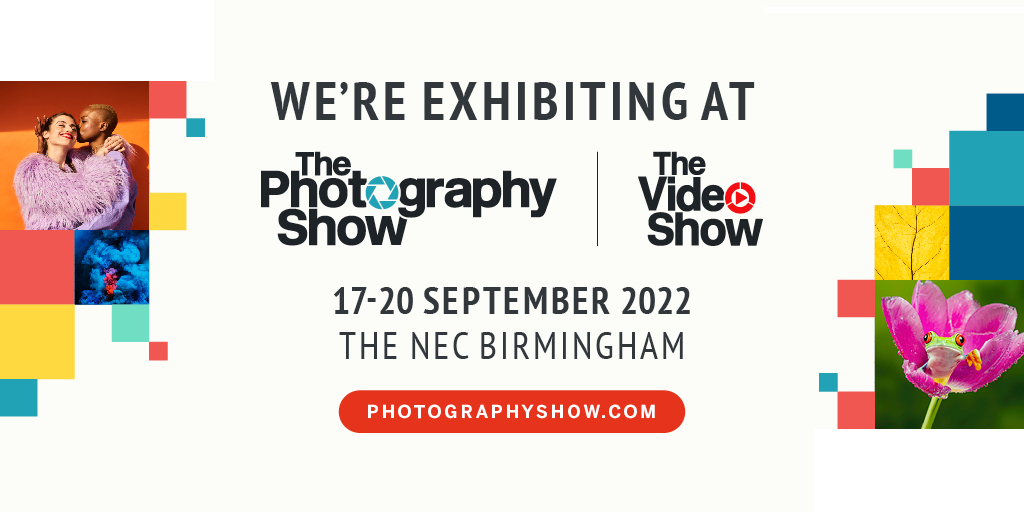 From 17th-20th September 2022 CMS will be hosting the DJI stand at The Photography Show & The Video Show, the UK & Europe's largest event dedicated to photography and video, hosted by Future.

The show welcomes over 30,000 people through the doors every year and with over 350 brands and suppliers including Sony, Canon and of course DJI, there is so much new tech (and vintage) for you to come and see!
CMS & DJI

This year CMS distribution has worked with DJI to develop, create and host the DJI stand at The Photography Show. We're so proud of the work that's gone into the stand in collaboration with designers Studio Sasch and stand builders Solutions2. Our international teams have created a stand that you won't want to miss.

"Creativity is at the heart of every dream. Every idea, every groundbreaking leap that changes our world starts with the vision of talented creators. At DJI, we give these creators the tools they need to bring their ideas to life."

DJI achieves this mission through unparalleled commitment to R&D, a culture of constant innovation and curiosity, and a focus on transforming complex technology into easy-to-use devices

DJI's range of products continues to expand, and this year is no different with no fewer than 8 new products on show that have been released in the last 12 months.

What to expect

The DJI stand, located at C550, will be host to a range of exciting new products for you to see and try, from the DJI Ronin 4D Cinema Camera to the brand new DJI Avata drone and much more.
DJI has chosen to introduce a theme to this year's stand – Imaging never stops.
This theme recognises DJI users' relentless drive for creativity and aligns with the demands of the modern creative workflows.
The tables on DJI's stand are split into product ranges that align with these workflows:

Always Ready

For your point of view. For to-go and to-wow now: Discover our most compact imaging solutions yet, with relentless quality you can see, feel & hear, instantly – including Mini 3 Pro, DJI Mic & Action Series.

Always Powerful

For the unseen perspectives. For the bigger picture: Explore and capture the whole world in your own ways, with our latest range for powerful imaging experiences – including RS 3, Mavic 3, Avata & Goggles 2.

Always Cinematic

For the masterful. For the biggest screens: Create exactly what you imagine, in ways, no one imagined before. Experience our top-notch imaging equipment – including Ronin 4D, Mavic 3 Cine & RS 3 Pro.

Talks and Activities

On top of all the latest DJI products that you can see on the stand, DJI are also presenting 4 talks on the Video Hub Stage, which is new for 2022.

The Video Hub stage focuses on the more techy side of video; showcasing gear and getting into the nitty gritty of video making, such as setting up mics for interviews, to codecs, live streaming and kit bag essentials.

DJI's talks will centre on 4 product areas:

Saturday 17th September
And Action!

Peter Archer will introduce you to DJI's latest action camera, delving into the key features, image quality, and why it should be on your shopping list!

Sunday 18th September
How to get started with FPV

Gavin Lee explains all about FPV drones - what FPV means, how to get started, speed, proximity, safety and more. Showcasing the new DJI Avata, Gavin will delve into the specifics of flying the DJI drone, its capabilities and uses, and why it's different.

Monday 19th September

Imaging above everything

Chris Cooze will give an introduction to DJI's philosophy for design and image creation, which centres around delivering a superior image capture. Showcasing the Mavic 3 series and the latest Hasselblad camera, Chris will demonstrate the importance of delivering a quality image platform that enables content creators to capture their ideas.

Tuesday 20th September

Moving images: Filming with gimbals

Join Paul Waterworth for this session on filming with gimbals, covering everything you need to know from car tracking, steadicam to aerial. Giving a run down of the DJI's current gimbal range, Paul will discuss how to select the correct kind of equipment for the shot you want, ensuring you're using the best tool for the job no matter the kind of content you're creating.

You can see the full programme of talks, demos & masterclasses at The Photography Show here.

How to get tickets

I know you can't wait to head over to the NEC and see all that The Photography Show and DJI has to offer, so all that's left is for you to get tickets!

For professionals and trade visitors

Visit this link and click on PRO / TRADE REGISTRATION. Here you can request a free ticket for the event. You can also buy extras including access to the Super Stage and Masterclasses via the same link.

For amateurs and enthusiasts

Visit this link and click on BUY ENTRY TICKETS. Here you can request a free ticket for the event. You can also buy extras including access to the Super Stage and Masterclasses via the same link.

For students

Visit this link and click on STUDENT REGISTRATION. Here you can request a free ticket for the event. You can also buy extras including access to the Super Stage and Masterclasses via the same link.

Final thoughts

Come and say hi to the team at the show, we're so excited to see you there. Staff from DJI, Hasselblad and CMS Distribution will be there to guide you through all of the latest products and help you find the perfect solution to bring your ideas to life.