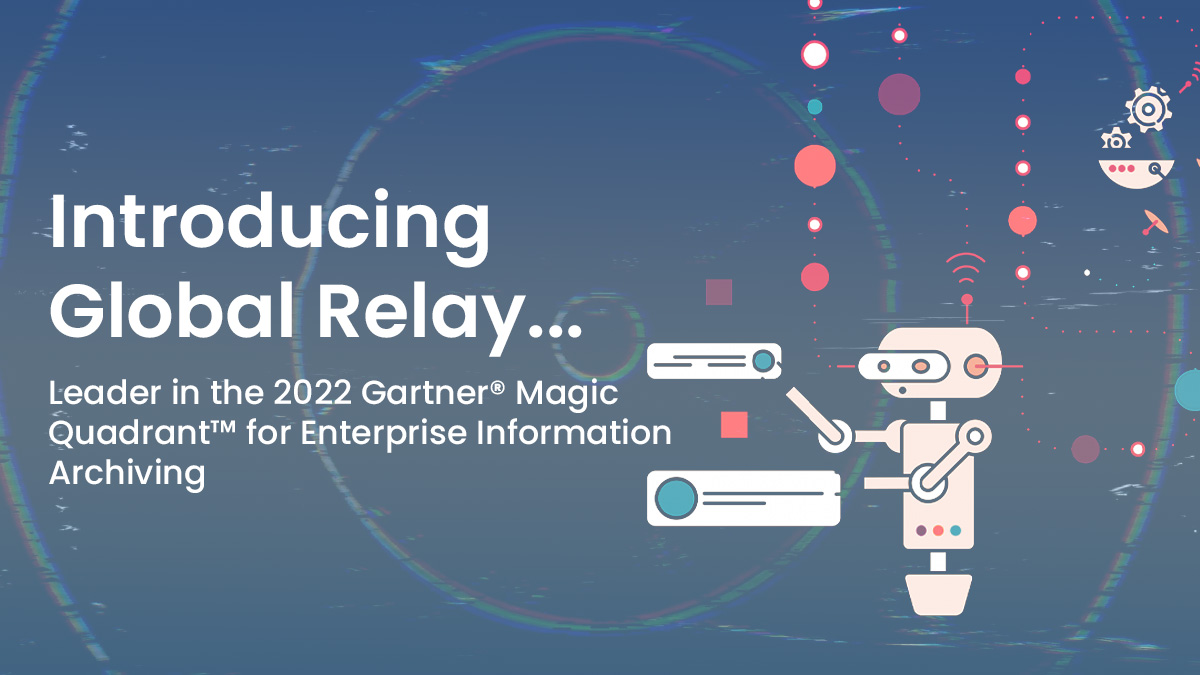 London, UK- CMS Distribution has partnered with Global Relay to offer their archiving solutions to CMS customers throughout the UK and Ireland.

Global Relay is a leading provider in Enterprise Information Archiving, providing compliance solutions for every industry, that scales to every business and enable message archiving across multiple data types. As CMS specialises in bringing innovative solutions to market, this relationship offers a real boost to CMS' portfolio.
With Global Relay, you can connect all your data sources and store it in their powerful archive or into our own data store. Global Relay not only helps you retain data, but also organise and analyse it to meet compliance requirements.

CMS specialises in taking emerging technologies to market whilst growing established brands using a range of value-added services. Together, CMS and Global Relay are trusted within the IT industry and will offer the highest levels of service and knowledge to customers for their information governance needs.

Global Relay has been named a leader nine consecutive times in the Gartner® Magic Quadrant™ for Enterprise Information Archiving and also scored highest among vendors in all four use cases in the 2022 Gartner® Critical Capabilities Report in Compliance, Archive, e-Discovery and Analytics.
 
"We are really excited to have such a ground-breaking, industry leader product in our portfolio. The growth potential for this vendor is outstanding and we really look forward to this next phase," said Stewart Legge, Vendor Development Director at CMS Distribution. 
 
"We are thrilled to partner with CMS for our channel marketing program," says Max Canham, Channel Sales Director at Global Relay. "With an unmatched reputation as a leader and trailblazer in the channel, along with their dedication to delivering for their customers, CMS is the perfect advocate for our solution." 

About CMS Distribution 
Since 1988, People, Technology and exceptional Service have been at the heart of CMS Distribution. We take great pride in seeking out innovative technologies that deliver cost-effective solutions, enabling our trade-only customers to succeed. 
Our business represents 200+ manufacturers and we sell to a "glocal" customer base made up of corporate resellers, managed service providers, high to have street and online retailers ranging from large multi-nationals to smaller, independent IT companies. 
At CMS, we specialise in finding and delivering emerging technologies to market whilst growing established brands using a range of value-added services. 
 
About Global Relay
Global Relay is a leading provider of fully compliant, cloud-first message archiving, supervision, and eDiscovery solutions for the global financial sector and other highly regulated industries.

The privately-owned company delivers services to over 20,000 customers in 90 countries, including 22 of the top 25 banks. Global Relay Archive ensures support for email, instant messaging, Bloomberg®, Refinitiv, social media, mobile messaging, and more for users of mobile, Microsoft Outlook® and web-based platforms. For more information, please visit globalrelay.com.

In January 2022, Global Relay was named a Leader in the 2022 Gartner® Magic Quadrant™ for Enterprise Information Archiving for the ninth consecutive time and also scored highest among vendors in all four use cases in the Gartner Critical Capabilities Report; Compliance, Archive, e-Discovery and Analytics.

---------- 
For more information, please contact: 
 
Stewart Legge – Vendor Development Director
stewart.legge@cmsdistribution.com
 
Max Canham – Channel Sales Director
Max.Canham@globalrelay.net
 
Main Tel: +44 (0) 208 960 6000
Website: www.cmsdistribution.com