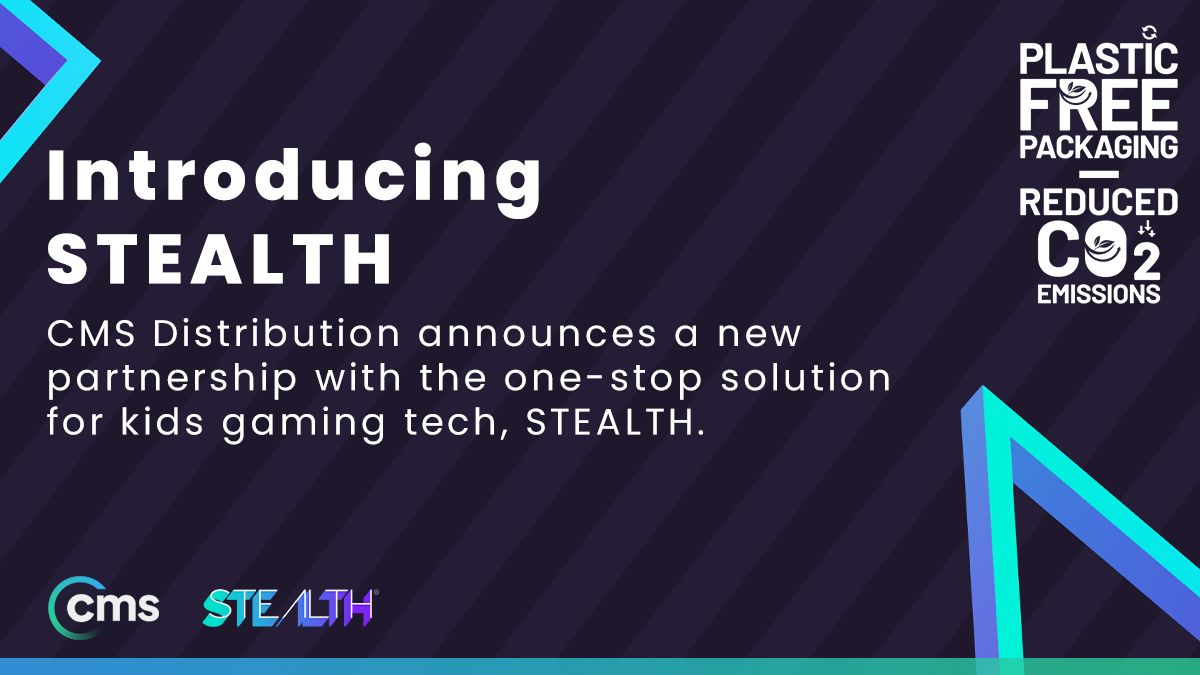 London, UK - CMS Distribution is delighted to announce the launch of a new partnership with STEALTH.
STEALTH is a UK-based gaming accessories company who specialises in products that cater to young, casual gamers. Their products range from headsets and stands to chargers and cases. What truly sets STEALTH apart is its commitment to sustainability. In early 2019, STEALTH moved to 100% plastic-free packaging on all products - the first gaming brand in the world to do so. Since then, STEALTH has saved over 200 tonnes of plastic from going into landfill and is committed to making this 500 tonnes by the end of 2025. STEALTH is also continuously striving to reduce its carbon footprint. With much-improved container utilisation - fewer containers also equals fewer trucks - and no longer using air freight at all, the company has significantly reduced its carbon emissions.
As a brand, STEALTH strongly focuses on responsibility, not just environmentally, but in keeping children safe online and gaming responsibly. There is a dedicated Parent Hub on the STEALTH website that offers advice on monitoring screen time, enforcing healthy gaming habits, avoiding online scams and cyber-bullying and much more. They have also partnered with charitable organisations, both domestically (local schools, the British Red Cross, Gamers Beat Cancer) and internationally (Q-learning Nepal), to help with fundraisers and to get gaming accessories for those who need them.
Paul Carrington, STEALTH's Managing Director, stated "We're really excited about the partnership with CMS and really looking forward to working together in the future. They've got specialists and experts in marketing, supply chain and logistics and work with some of the biggest retailers around the world. So, we know STEALTH Gaming is in great hands."
Behcet Sevdali, Product Sales Manager, Consumer Tech at CMS Distribution, said "We're delighted to start our partnership with STEALTH and are looking forward to offering their range of innovative and affordable gaming accessories to our customers. Their extensive range of accessories offers countless attach sell and gifting opportunities in an exciting and fast-moving category."
ABOUT CMS DISTRIBUTION
Since 1988, People, Technology and exceptional Service have been at the heart of CMS Distribution. We take great pride in seeking out innovative technologies that deliver cost-effective solutions, enabling our trade-only customers to succeed. 
Our business represents 200+ manufacturers and we sell to a "glocal" customer base made up of corporate resellers, managed service providers, high street and online retailers ranging from large multi-nationals to smaller, independent IT companies. 
At CMS, we specialise in finding and delivering emerging technologies to market whilst growing established brands using a range of value-added services. 
ABOUT STEALTH
STEALTH is a one-stop solution for gamer needs. They cover all categories - headsets, charging stands, cases and so on, whilst also focusing on affordability and quality.
FOR MORE INFORMATION
CMS Distribution
Behcet Sevdali - Product Sales Manager, Consumer Tech
behcet.sevdali@cmsdistribution.com
STEALTH
Sarah Oxley - Senior National Account Manager
Main Tel: +44 (0) 208 960 6000
Website: www.cmsdistribution.com