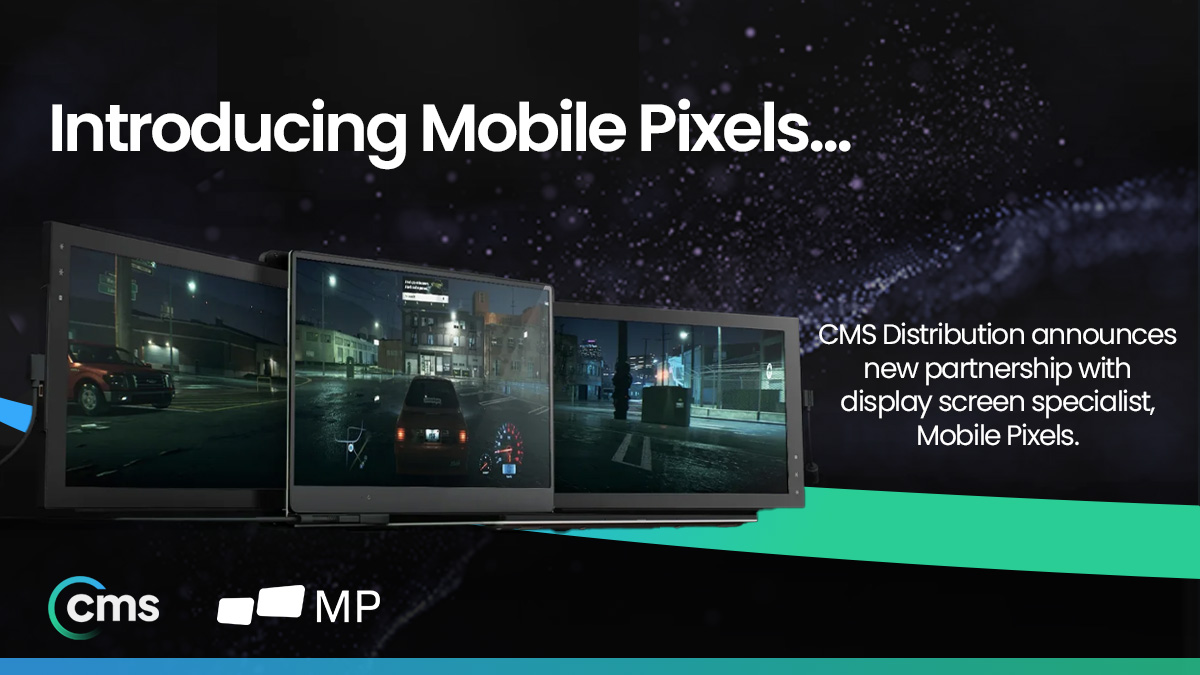 London, UK, 4th May 2023:
CMS Distribution have partnered with Mobile Pixels, a leading innovator in portable and external monitor technology. Through this partnership, CMS Distribution will be the exclusive UK and Ireland distributor of Mobile Pixels' innovative range of portable and external monitors in Europe. The partnership brings together CMS Distribution's extensive network of resellers and end-users with Mobile Pixels' cutting-edge technology, enabling customers to increase productivity and mobility in a rapidly changing business environment.

Mobile Pixels provides flexible and mobile solutions for individuals and businesses, enabling users to extend their screen real estate, increase productivity, and work from anywhere. Their range of portable and external monitors includes the popular Duex Series, Trio Series, Glance Series and Geminos Series, all of which attach to the back of a laptop screen for added convenience. With a commitment to innovation and customer satisfaction, Mobile Pixels is at the forefront of the portable monitor market.


"We are thrilled to partner with CMS Distribution to bring our innovative portable monitor solutions to European customers," said Jack Yao, CEO of Mobile Pixels. "This partnership will enable us to reach a wider customer base and expand our global footprint, and we look forward to working closely with CMS Distribution to deliver the best possible experience for our customers."

"We are excited to partner with Mobile Pixels to bring their innovative range of portable monitors to our European customers," said Jonpaul Warren, Gaming Sales Manager of CMS Distribution. "As remote and hybrid work models become more prevalent, the demand for portable and flexible monitor solutions has increased significantly. We believe that the addition of Mobile Pixels' range to our portfolio will offer customers the flexibility they need to work from anywhere, anytime."

The partnership between CMS Distribution and Mobile Pixels is set to revolutionise the way businesses and individuals work, providing flexible and mobile solutions to increase productivity and enhance the user experience.

ABOUT CMS

Since 1988, People, Technology and exceptional Service have been at the heart of CMS Distribution. We take great pride in seeking out innovative technologies that deliver cost-effective solutions, enabling our trade-only customers to succeed. 

Our business represents 200+ manufacturers and we sell to a "glocal" customer base made up of corporate resellers, managed service providers, high to have street and online retailers ranging from large multi-nationals to smaller, independent IT companies. 

At CMS, we specialise in finding and delivering emerging technologies to market whilst growing established brands using a range of value-added services. 

ABOUT MOBILE PIXELS

Mobile Pixels is a leading innovator in portable and external monitor technology, providing flexible and mobile solutions for individuals and businesses. Mobile Pixels' range of portable and external monitors enables users to extend their screen real estate, increase productivity and work from anywhere. Founded in 2018, Mobile Pixels is based in Boston, MA.

FOR MORE INFORMATION

CMS Distribution

Jonpaul Warren – Gaming Sales Manager
Jonpaul.warren@cmsdistribution.com

Vendor

Jack Yao – CEO Mobile Pixels

Jackyao@mobilepixels.us

Main Tel: +44 (0) 208 960 6000

Website: www.cmsdistribution.com