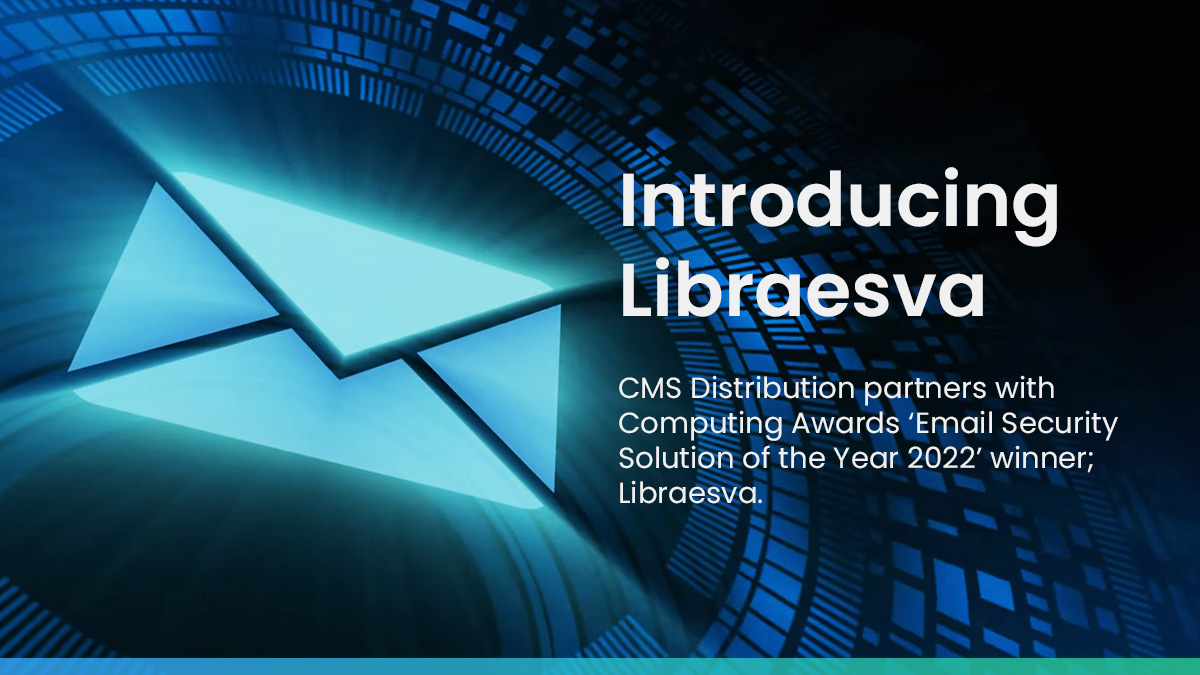 London, UK, 17th January 2022:
CMS Distribution has partnered with Libraesva to offer their exceptional email security solutions to CMS' customers throughout the UK and Ireland.

When it comes to Email Security and Archiving, Libraesva excels in making security simple. Combining award winning technical excellence with customer feedback, technical partnerships, and enterprise grade feature sets to deliver a resounding solution, from discovery to deployment to world class aftercare support.

Libraesva are uniquely positioned to help enterprises secure their email communications. Specialising in Email Security, they continue to invest R&D resources into developing security offerings to enhance the Email Security Gateway and Email Archiver.

'We're delighted to be partnering with CMS Distribution because they share Libraesva's passion to protect businesses, and their employees, from the ever-present threat of cyber-attacks' says Robin Mohan, Managing Director at Libraesva.

Stewart Legge comments on the recent partnership by saying 'Email is one of the primary threat vectors for cyberattacks so to be able to partner with Libraesva, an organisation that prides itself in effectively combatting this, is great. We couldn't be more excited to have Libraesva as part of our ever-growing portfolio.'

With the addition of Libraesva to our cybersecurity portfolio, it also increases our status as a specialist in delivering comprehensive security solutions to our customers. Together, CMS and Libraesva are well trusted within the IT industry and will offer the highest levels of service and knowledge to customers for their email security needs.

About CMS Distribution

Since 1988, People, Technology and exceptional Service have been at the heart of CMS Distribution. We take great pride in seeking out innovative technologies that deliver cost-effective solutions, enabling our trade-only customers to succeed. 

Our business represents 200+ manufacturers and we sell to a "global" customer base made up of corporate resellers, managed service providers, high to have street and online retailers ranging from large multi-nationals to smaller, independent IT companies. 

At CMS, we specialise in finding and delivering emerging technologies to market whilst growing established brands using a range of value-added services. 

About Libraesva

Libraesva secures email communications for organisations, helping them eliminate email borne threats, preserve email data and provide an environment for their people to communicate safely.

With an integrated suite of security, continuity and compliance solutions, Libraesva is 100% focused on the needs of mid-sized organisations, where there is an immediate need for simple to manage, all-inclusive email security due to the rapidly growing volume and sophistication of threats, complexity of existing security technology, and increasing regulation.

Libraesva has won many awards, is consistently certified by Virus Bulletin as one of the best email security systems, and is trusted by leading brands around the world.

FOR MORE INFORMATION

CMS Distribution

Nicole Kiernan – BDM Vendor Incubation

Nicole.kiernan@cmsdistribution.com

Libraesva

Robin Mohan UK Managing Director

Main Tel: +44 (0) 208 960 6000
Website: www.cmsdistribution.com