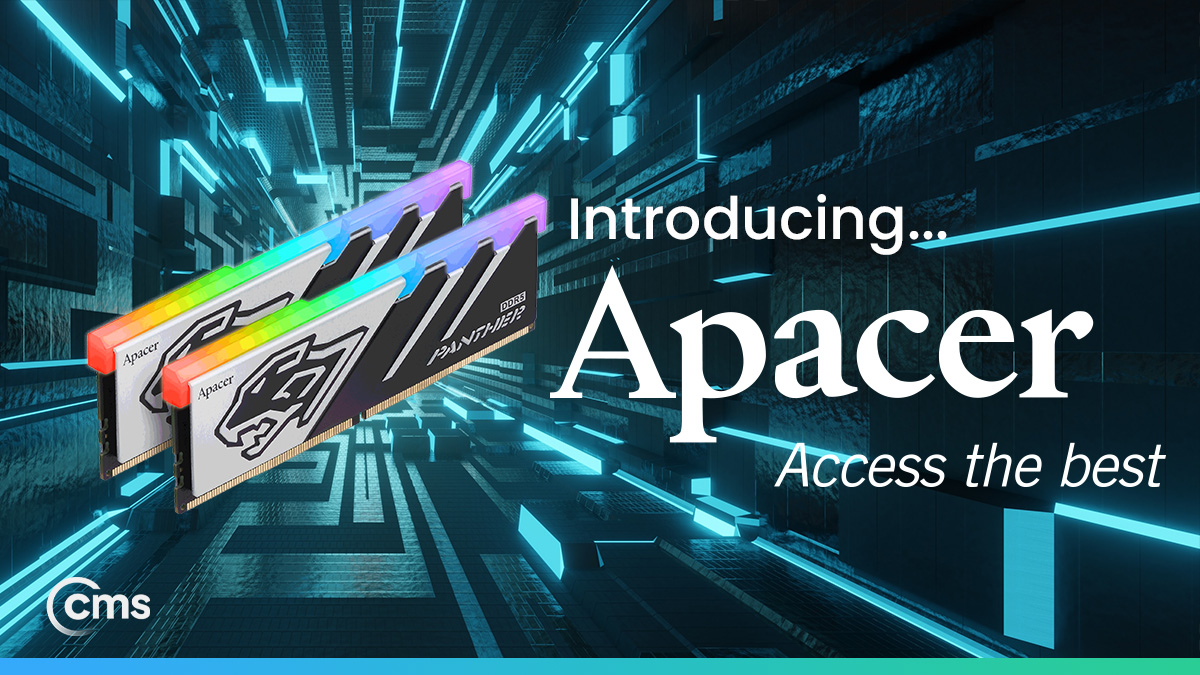 Apacer, a leading memory manufacturer founded in 1997 and carrying over 25 years of experience in storage applications, has announced a strategic partnership with CMS Distribution.
Apacer's vast product range includes DRAM, Flash and External Storage and is dedicated to becoming the leading digital storage brand for integrated information services. The company provides wide-ranging and trusted products from standard desktop memory, to top of the range RGB gaming solutions, with a view to fulfilling customer needs and pursuing durable and reliable storage.
Apacer has a global presence, with headquarters in Taiwan and subsidiaries in USA, Netherlands, Japan, India and China (Shanghai and Shenzhen). The company has received numerous international awards including iF award, Taiwan Excellence and D&I awards.
"We are thrilled to enter into a strategic partnership with CMS Distribution to bring our innovative Memory, Overclocking, Gaming and Industrial solutions to UK customers," said Sandy Lin, (European Sales Manager of Apacer Technology Inc) "This partnership will enable us to reach a wider customer base and expand our global footprint, we look forward to working closely with CMS Distribution and their partners to deliver the best possible experience for our customers."
"We are excited to partner with Apacer Technology to bring their vast range of memory solutions to our UK customers." said Dan Hirst (Gaming Product Manager of CMS Distribution) "As we continue to evolve and broaden our consumer, gaming and industrial ranges, we believe that the addition of Apacer's range of solutions to our portfolio will offer customers the flexibility and choice they need, for any requirement they have."
The agreement between CMS Distribution and Apacer enables both parties to expand the offering to a wider range of available products. The two companies share a commitment to delivering innovative, reliable, and cost-effective solutions that meet the evolving needs of their customers.
ABOUT CMS
Since 1988, People, Technology and exceptional Service have been at the heart of CMS Distribution. We take great pride in seeking out innovative technologies that deliver cost-effective solutions, enabling our trade-only customers to succeed. 
Our business represents 200+ manufacturers and we sell to a "global" customer base made up of corporate resellers, managed service providers, high to have street and online retailers ranging from large multi-nationals to smaller, independent IT companies. 
At CMS, we specialise in finding and delivering emerging technologies to market whilst growing established brands using a range of value-added services. 
ABOUT Apacer
Founded in 1997, Apacer is a leading global digital storage brand with comprehensive R&D, design, manufacturing, and marketing capabilities. With years of accumulated and patented digital storage technology and deep successful R&D experience, Apacer provides a competitive range of products and services. Our product lines are diversified, covering solutions for memory modules, industrial, consumer digital storage products and Internet of Things integrated applications.
Apacer is devoted to implementing our core value "Becoming Better Partners." we deliver on our promises, strive for constant improvement, and develop solutions that are mutually beneficial for us and our customers. We continually create innovative, diversified storage solutions and hardware/software integration services for various industries. We endeavour to become a better partner in the industrial ecosystem and deliver substantial benefits to all stakeholders.
For more information
CMS Distribution
Dan Hirst – Gaming Product Manager

Email: dan.hirst@cmsdistribution.com
Apacer Technology Inc.
Sandy Lin - UK Sales Manager
Email address - sandy_lin@apacer.com
Vendor Page: https://www.cmsdistribution.com/vendors/apacer
Shop Now: https://store.cmsdistribution.com/vendors/apacer
Main Tel: +44 (0) 208 960 6000
Website: www.cmsdistribution.com