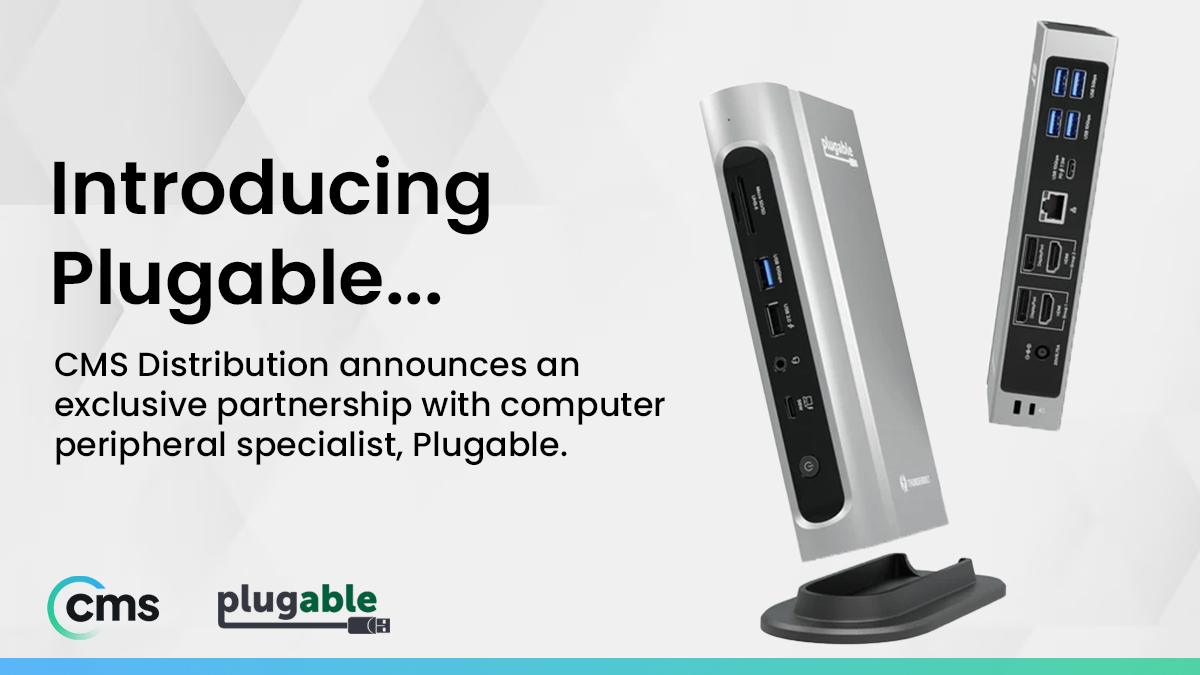 CMS Distribution has been announced as the exclusive distributor for Plugable products in the UK, Ireland and across Europe.
Plugable is recognised as one of the top brand names in computer accessories, offering a comprehensive product line including docking stations, hubs, adaptors, cables and other related electronic accessories. Plugable is known for delivering high-quality and user-friendly products that effortlessly integrate with the diverse systems and environments businesses have today.

With over 100,000 organic reviews with an average rating of approximately 4.5 out of 5, what sets Plugable apart is its unparalleled depth of product information and devoted technical support, ensuring that every customer can fully optimise their tech experience with confidence and ease. Plugable is the trusted source for enabling your connected desk, wherever that may be.

"We are excited to partner with CMS Distribution to expand our reach into the UK and European IT Channel where reliable compatibility is crucial for the business customer," said Lynn Smurthwaite-Murphy, CEO of Plugable. "Their extensive network, customer-centric approach and technical expertise will be invaluable in helping us meet the needs of our global customers."

Daniel Pell, Commercial Manager at CMS Distribution, commented on the new partnership by saying "We are thrilled to partner with Plugable and bring their range of products to our customers. Their innovative and high-quality solutions are a perfect fit for our portfolio and we are confident that this partnership will provide great value to our customers."

Customers can expect to see a broader range of Plugable products available through CMS Distribution channels. The two companies share a commitment to delivering innovative, reliable and cost-effective solutions that meet the evolving needs of their customers.

ABOUT CMS DISTRIBUTION

Since 1988, People, Technology and Exceptional Service have been at the heart of CMS Distribution. We take great pride in seeking out innovative technologies that deliver cost-effective solutions, enabling our trade-only customers to succeed. 

Our business represents 200+ manufacturers and we sell to a "glocal" customer base made up of corporate resellers, managed service providers, high street and online retailers ranging from large multi-nationals to smaller, independent IT companies. 

At CMS, we specialise in finding and delivering emerging technologies to market whilst growing established brands using a range of value-added services. 

ABOUT PLUGABLE

Plugable Technologies is a global electronics company on a mission to empower productivity while simplifying compatibility. The company was founded in 2009 by Bernie Thompson with a founding purpose to create high-quality, innovative and affordable technology products that simplify and enhance the computing experience.
Plugable's product line includes a diverse array of docking stations, hubs, adaptors and other cutting-edge accessories that elevate your productivity and seamlessly expand connectivity. The company has a strong reputation for delivering reliable and user-friendly products that effortlessly integrate with a vast range of platforms and operating systems for a seamless user experience.

FOR MORE INFORMATION

CMS Distribution

Daniel Pell - Commercial Manager
daniel.pell@cmsdistribution.com

Plugable

John Henderson –VP Partner Development
johnh@plugable.com
Main Tel: +44 (0) 208 960 6000
Website: www.cmsdistribution.com