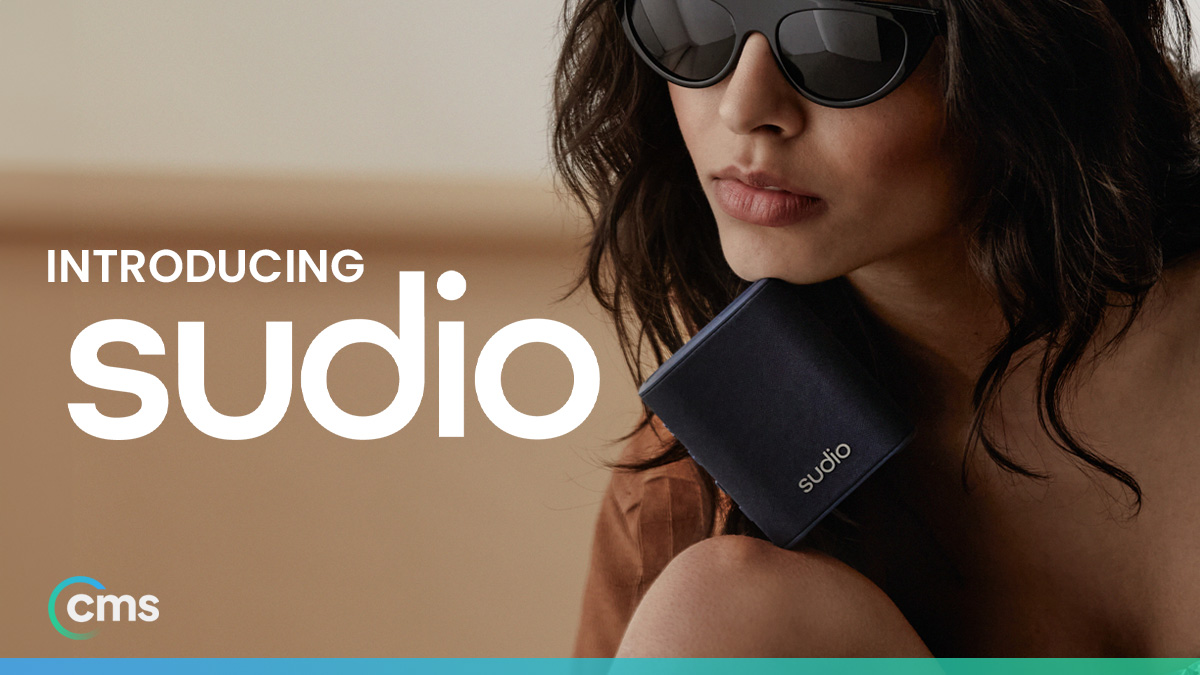 London, UK - CMS Distribution is excited to announce the launch of a new partnership with Sudio.
This collaboration is a significant milestone for both companies, bringing together CMS Distribution's extensive reach in distribution and Sudio's commitment to delivering exceptional audio experiences. Together, they are working to redefine the landscape of audio product distribution, offering customers access to a curated selection of cutting-edge audio solutions that cater to the diverse needs of today's consumers. This partnership marks a union that will undoubtedly resonate with audio enthusiasts and tech aficionados across the UK and Ireland.
Sudio, headquartered in Stockholm, Sweden, and with offices in Zhongshan, China, has achieved remarkable success in 2023. They've sold one million earphones, collaborated with over 350,000 influencers, and expanded on their presence to 35+ countries. Offering a range of audio products priced from £29.00 to £79.99, Sudio's innovation continues to impress, solidifying their status as an industry leader.
Carl Sundqvist, Sudio's Co-Fonder had this to say on the partnership - "Sudio is committed to establishing itself as a leading brand in the UK market. In pursuit of this goal, we are excited to announce our strategic partnership with CMS. This collaboration with CMS aligns with our vision to secure as strong foothold in the UK market by joining forces with a partner poised to help us achieve this objective.
Product Sales Manager, Behcet Sevdali commented on the partnership saying "We're excited to start our partnership with Sudio and are looking forward to offering their range of quality but affordable audio products to our customers. Their range of in-ear and hybrid earphones, as well as their bone conduction and speaker products further strengthen the range of consumer audio brands available at CMS."
With Sudio's remarkable track record and global presence, combined with CMS distribution's extensive reach, customers can look forward to a diverse range of cutting-edge audio solutions that cater to their needs. This collaboration is set to make waves in the industry and elevate the audio experience for consumers in the UK and Ireland.
ABOUT CMS
Since 1988, People, Technology and exceptional Service have been at the heart of CMS Distribution. We take great pride in seeking out innovative technologies that deliver cost-effective solutions, enabling our trade-only customers to succeed. 
Our business represents 200+ manufacturers and we sell to a "glocal" customer base made up of corporate resellers, managed service providers, high to have street and online retailers ranging from large multi-nationals to smaller, independent IT companies. 
At CMS, we specialise in finding and delivering emerging technologies to market whilst growing established brands using a range of value-added services. 
ABOUT SUDIO
Sudio is a Swedish based audio brand which began its journey in 2012. Founded by engineers, built by music enthusiasts, and designed for the everyday consumer. Offering relevant and affordable audio products that don't compromise on quality. It takes both feats of engineering and creativity to produce quality products at accessible price points.
Sudio boasts a global presence with its products available in over 16,000 stores across the world. While historically strong in the Asian market, they have experienced rapid growth over the past year in the Nordics, North America, and South America. Their primary product offerings include in-ear and hybrid earphones, and manufacture bone conduction and speaker products. Sudio maintains offices in both Sweden and China, and with ambitious goal for this year is to achieve sales of 1 million earphones.
Vendor Page - https://www.cmsdistribution.com/vendors/sudio
FOR MORE INFORMATION
CMS Distribution
Behcet Sevdali - Product Sales Manager, Consumer Tech
behcet.sevdali@cmsdistribution.com
Sudio
Carl Sundqvist - Co-Founder
Main Tel: +44 (0) 208 960 6000
Website: www.cmsdistribution.com