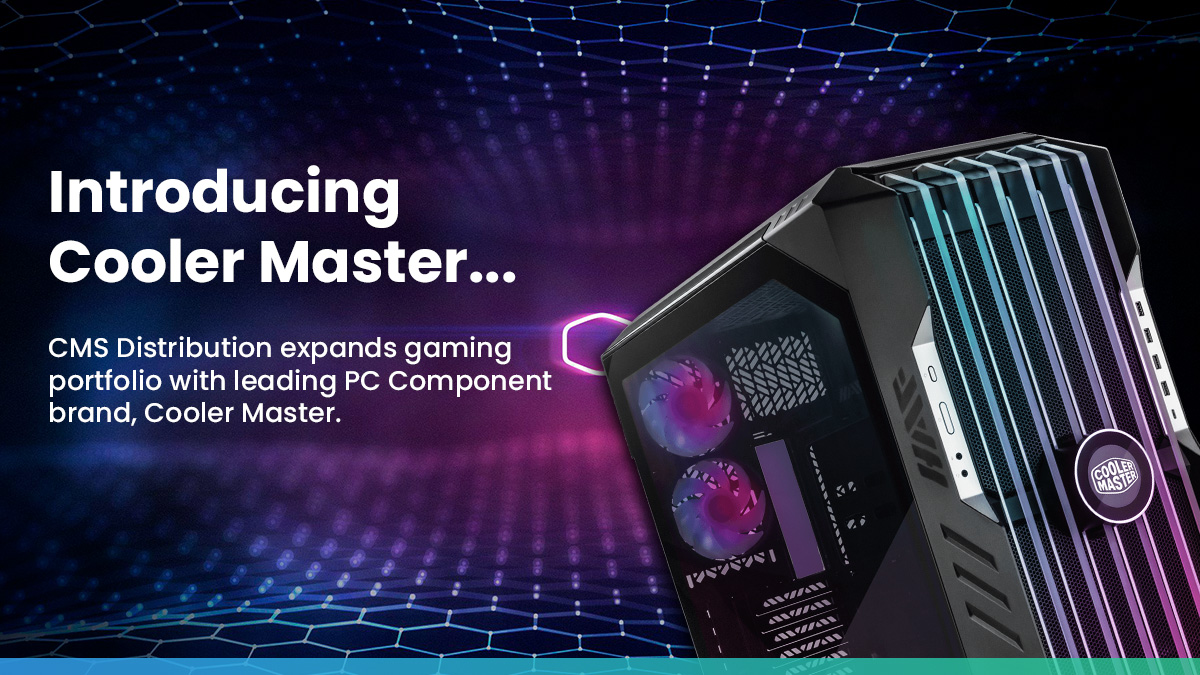 London, UK - Earlier this year, Cooler Master reiterated its plan to become a tech-focused brand announcing more than 50 products to be released throughout 2023.
Established in 1992, Cooler Master is a performance PC component and peripherals brand with a track record for innovations pushing the industry forward.

"I'm excited to announce our partnership with CMS to strengthen our distribution landscape. Our portfolio has expanded far beyond our grassroots of Case, PSU and Thermal. CMS will not only add value but also deepen our connection to the channel. Now, UK customers will have easier access to our award-winning products," said Jimmy Shaw, Cooler Master CEO.

Jonpaul Warren, Gaming Sales Manager at CMS said "Cooler Master is a great signing for CMS, a really positive addition to our vendor portfolio and highlights our dedication to delivering great products from a renowned IT brand for our customers. We are proud to work with Cooler Master and are confident that it will add a valuable extra dimension to CMS's product portfolio."

The expansion of CMS' Gaming Portfolio means an even more extensive and varied range of products to offer customers. With the gaming scene continuing to grow exponentially, it's crucial to us here at CMS that we offer the breadth and quality of products for resellers to offer their customers an elevated gaming experience.

Cooler Master products have enjoyed a long history of excellence. In fact, last year iF's grand international design jury recognised 21 Cooler Master products with excellence in design. The company's worldwide gamer and DIY fans are the best testament to the company's drive to produce high value products that allow customers to express their individuality without breaking the bank.


ABOUT CMS DISTRIBUTION
Since 1988, People, Technology and exceptional Service have been at the heart of CMS Distribution. We take great pride in seeking out innovative technologies that deliver cost-effective solutions, enabling our trade-only customers to succeed.
Our business represents 200+ manufacturers and we sell to a "glocal" customer base made up of corporate resellers, managed service providers, high street and online retailers ranging from large multi-nationals to smaller, independent IT companies.
At CMS, we specialise in taking emerging technologies to market whilst growing established brands using a range of value-added services.
ABOUT COOLER MASTER
Established in 1992, Cooler Master is a performance PC component and peripherals brand with a track record for advancing the industry. From the world's first aluminum PC case to our pioneering thermal technologies, Cooler Master is committed to breaking technological boundaries and challenging the status quo. Our focus is to create a community for individuals who dare to stand out and embrace their inventive identity. Whether new builders use a PC as medium for self-expression, or hardcore gamers set up their battle stations to pay homage to their favorite character, we revel in being Wired Different. We are a brand aiming to go above and beyond by creating cool products for awesome people to build in their own way. More information is available at www.coolermaster.com and join us on Instagram, Twitter, Discord and Facebook.
FOR MORE INFORMATION
CMS Distribution
Name – Jonpaul Warren
Email address - jonpaul.warren@cmsdistribution.com
Vendor Page - https://www.cmsdistribution.com/vendors/cooler-master
Vendor
Name – Phil Davis
Email address – Phil_d@coolermaster.eu
Main Tel: +44 (0) 208 960 6000
Website: www.cmsdistribution.com