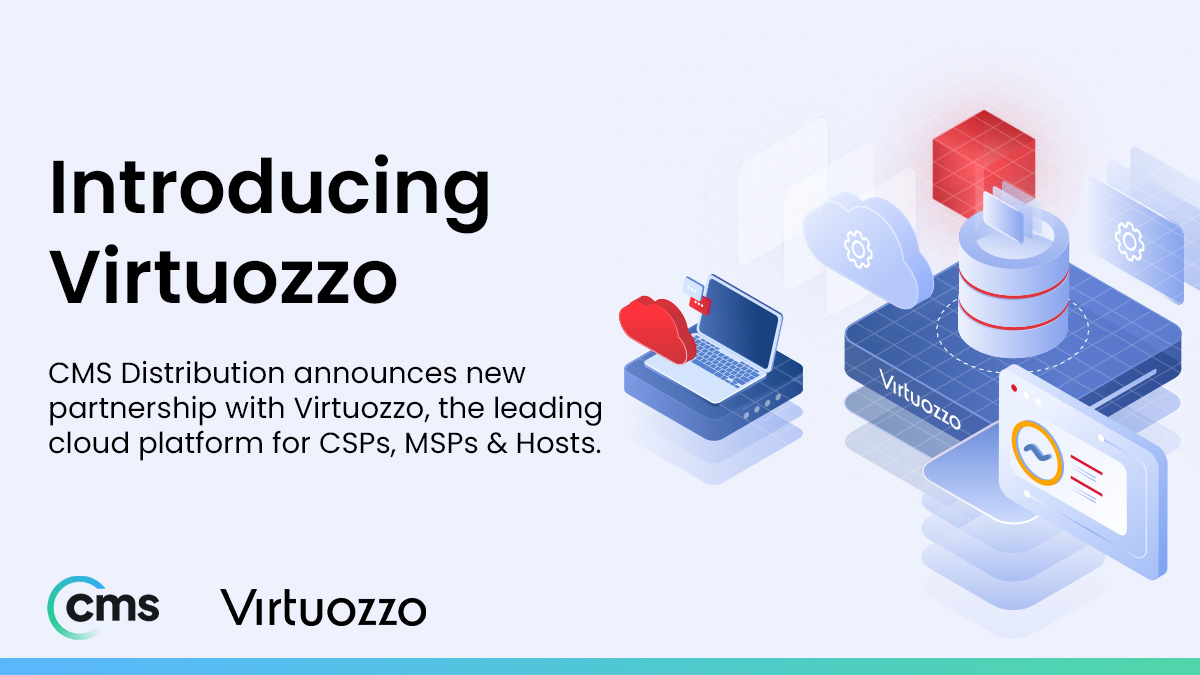 London, UK - CMS Distribution is delighted to announce the launch of a new partnership with Virtuozzo.
CMS Distribution today announced it has made Virtuozzo Hybrid Cloud available as part of its Data Information portfolio. The new cloud offering enables CMS Distribution customers to deliver comprehensive, Virtuozzo-powered cloud services that are highly competitive alternatives to the often complex and cost-prohibitive offerings available from popular hyperscalers.

Using Virtuozzo Hybrid Cloud, customers can develop an expanded cloud services portfolio that is high performing, highly reliable, and more accessible to their end customers while freeing staff to focus on differentiating services as well as hands-on support. As a result, CMS Distribution can support a broader customer base with an increased value proposition while its users maximize their cloud services investments.

"We are excited to partner with Virtuozzo to bring their powerful cloud services to our European and Ireland customers," said Stewart Legge, Vendor Development Director of CMS Distribution. "With this partnership, we're diversifying our product offering by providing a highly competitive and flexible alternative cloud platform, one that is sure to fill a void in the market."

Virtuozzo Hybrid Cloud is a fully managed cloud for the channel. It enables service providers to sell public, private and hybrid cloud Infrastructure as a Service, Platform as a Service, Storage, Backup and more, taking advantage of Virtuozzo's full stack of hyperconverged cloud enablement solutions, but without having to manage the underlying cloud software or hardware infrastructure. Based on highly tuned OpenStack virtualization and containers, Virtuozzo Hybrid Cloud offers a highly compelling proposition to service providers looking to optimise margins, and small and medium-sized business customers looking to optimise and reduce cloud total cost of ownership.



"We're excited to partner with CMS Distribution. CMS' focus on white space business opportunities, combined with its local delivery and support model for global technologies, make it the ideal distribution partner for Virtuozzo, and Virtuozzo Hybrid Cloud – through which, CMS can now bring a world-leading cloud platform to local MSPs in a radically simpler, more cost-effective, and more profitable way," said Alex Fine, CEO, Virtuozzo.
About CMS Distribution
Since 1988, People, Technology and exceptional Service have been at the heart of CMS Distribution. We take great pride in seeking out innovative technologies that deliver cost-effective solutions, enabling our trade-only customers to succeed.
Our business represents 200+ manufacturers and we sell to a "glocal" customer base made up of corporate resellers, managed service providers, high street and online retailers ranging from large multi-nationals to smaller, independent IT companies.
At CMS, we specialise in taking emerging technologies to market whilst growing established brands using a range of value-added services.
About Virtuozzo
Virtuozzo (www.virtuozzo.com) provides the leading alternative cloud platform for service providers, enabling them to sell cloud services that are more accessible, more affordable, and easier to use than hyperscaler solutions.
The company's legacy includes developing the first commercially available container technology and being a major contributor to numerous virtualization and open-source projects for more than 20 years.
Today, Virtuozzo cloud solutions are used by more than 700 Cloud Service Providers, Managed Service Providers and Hosting Providers in 80 countries. Virtuozzo is based in Schaffhausen, Switzerland, and has more than 320 employees across the U.S., UK, Europe, and Asia-Pacific.
Visit Vendor Page - https://www.cmsdistribution.com/vendors/virtuozzo
----------
For more information, please contact:
Stewart Legge - Vendor Development Director
Email: stewart.legge@cmsdistribution.com
Main Tel: +44 (0) 208 960 6000
Website: www.cmsdistribution.com