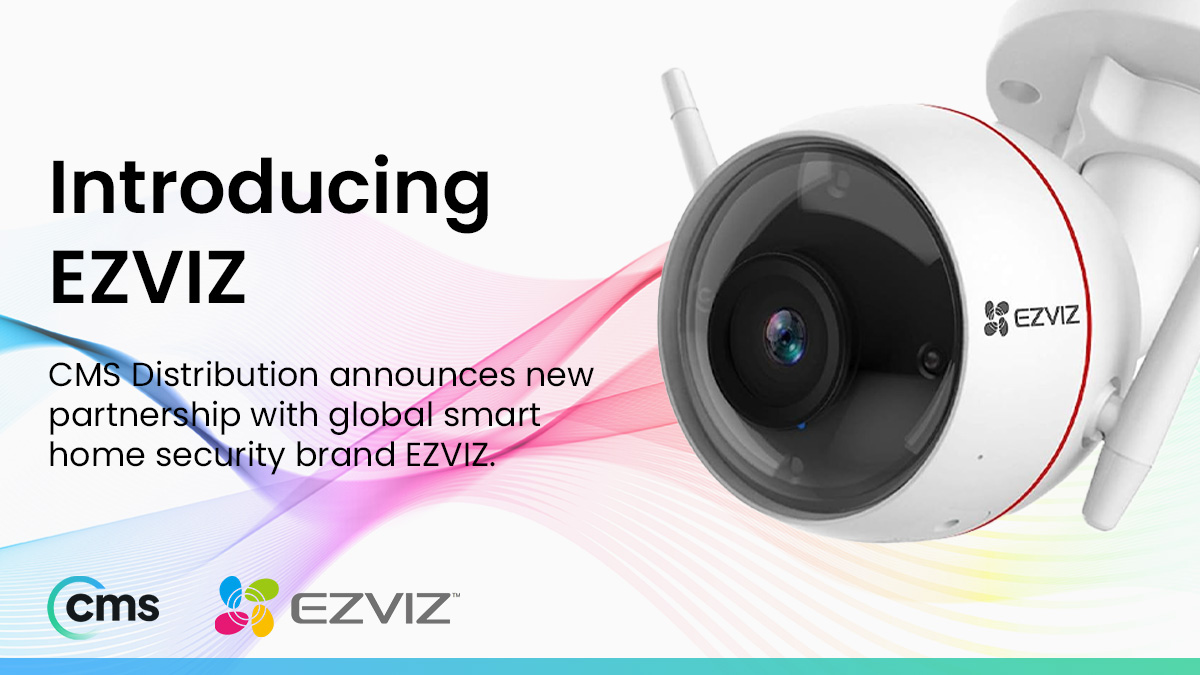 London, UK - CMS Distribution has announced the launch of a new partnership with Smart Home Security brand, Ezviz.
CMS Distribution, is pleased to announce its strategic partnership with EZVIZ, a global provider of innovative security solutions. This collaboration aims to bring cutting-edge security products and services to customers across various industries, ensuring advanced protection and peace of mind.
Since 2013 , EZVIZ has been dedicated to putting an easy vision in every home, they strive to build simple yet powerful smart home devices and appliances to provide visual protection and tangible joy to every family. Over the past decade, EZVIZ has experienced remarkable growth, driving forward with cutting-edge technology and celebrated business milestones. Since June 2022, 182 million IoT devices have been seamlessly connected to the EZVIZ cloud, and the EZVIZ APP has over 100 million registered users. Their global presence has expanded to encompass over 130 countries and regions, earning a reputation as best-sellers in categories such as security cameras, video doorbells, and more.
Bradley Nicholson – EZVIZ Business Development Director "EZVIZ are excited to be launching with CMS to support in the growth plans for the Smart Home category. The in depth partnerships they have across the retail and ecommerce landscape will allow us to achieve our growth aspirations in becoming a market leader. The proactive sales force that CMS have will allow EZVIZ to develop their breadth of customers as well as deepening the relationships of some of the key accounts. The launch of some new categories will be accelerated due to this fantastic new partnership"
Chris Corse – EMEA Trading Director "CMS are excited to be working with EZVIZ to expand their distribution to retailers and resellers in the UK market. Smart Home is a fast growing category and EZVIZ have proven to be a market leader, with their smart security cameras and smart home technology. We are looking forward to an launching an exciting roadmap of new technologies in the coming months.

ABOUT CMS
Since 1988, People, Technology and exceptional Service have been at the heart of CMS Distribution. We take great pride in seeking out innovative technologies that deliver cost-effective solutions, enabling our trade-only customers to succeed. 

Our business represents 200+ manufacturers and we sell to a "glocal" customer base made up of corporate resellers, managed service providers, high to have street and online retailers ranging from large multi-nationals to smaller, independent IT companies. 
At CMS, we specialise in finding and delivering emerging technologies to market whilst growing established brands using a range of value-added services. 

ABOUT EZVIZ
EZVIZ is a global leader in smart security solutions, offering a diverse range of innovative products such as smart cameras, video doorbells, and home automation devices. With a strong focus on quality and advanced features like facial recognition and cloud storage, EZVIZ delivers state-of-the-art security solutions that empower customers to monitor, protect, and control their environments with ease.

FOR MORE INFORMATION
CMS Distribution
Chris Corse – Business Director – EMEA
chris.corse@cmsdistribution.com

EZVIZ
Elaine Chen - Branding Manager
zhenzhen.chen@ezviz.com

Main Tel: +44 (0) 208 960 6000
Website: www.cmsdistribution.com