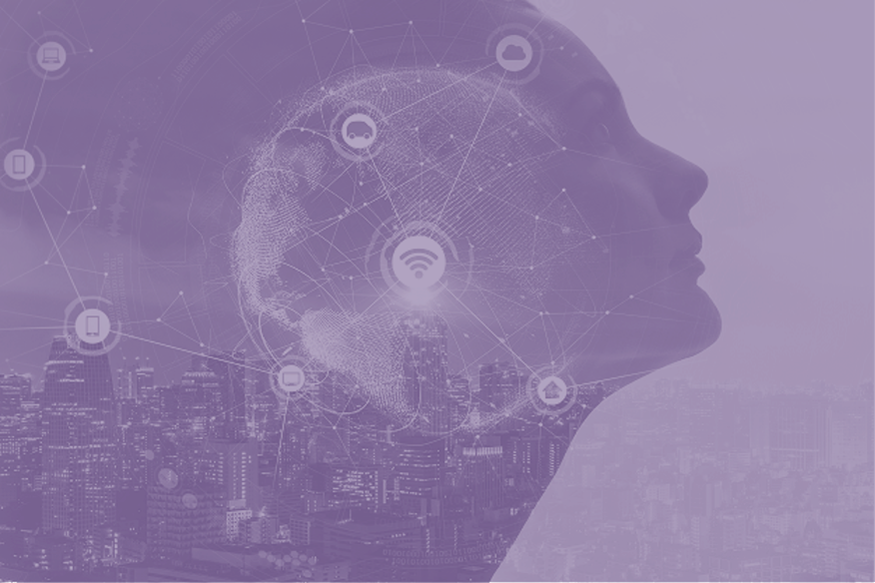 Why Quantum Evolve?
Cybersecurity is an essential, fast-paced and ever-changing part of the IT ecosystem. Cyber threats are exponentially increasing in volume and severity and ensuring that your customers have the right solutions in place is not always easy.
Cybersecurity is a combination of data security, network security and application security – but these technologies aren't one size fits all. They are constantly evolving to mitigate the risks of the various attacks that continually plague organisations.

Simply put, cybersecurity encompasses various technologies that protect IT systems, networks, and data from attacks.

Quantum Evolve helps enterprises to rapidly discover and implement business-transforming cybersecurity solutions by understanding and supporting them - via discovery and enablement - to overcome the challenges that are faced in today's fast-changing business environment.

We have access to established and disruptor capabilities which allow organisations to address these Digital, Cyber and Business Transformation needs through the development of innovation strategies, and applying a Partner, Build and Scale approach.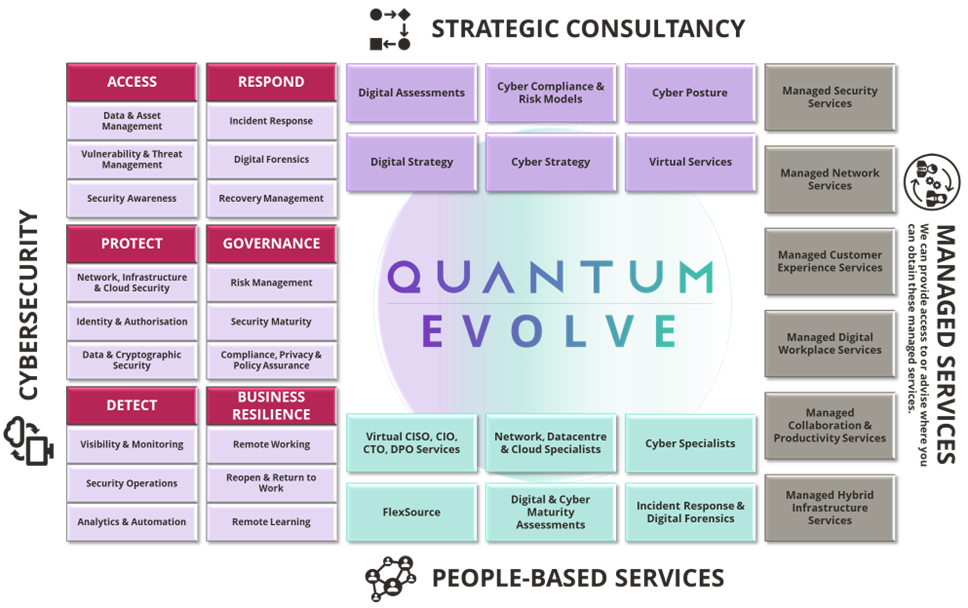 QUANTUM EVOLVE CYBER RESILIENCE FRAMEWORK
SOLUTIONS AND SERVICES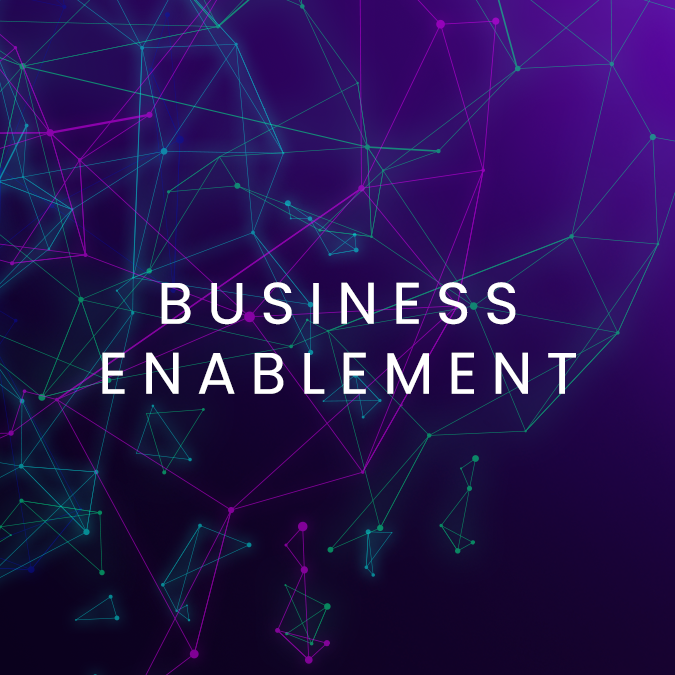 Quantum Evolve Business Enablement
Accelerate the conception and development of your cyber and digital services and experiences with Quantum Evolve's Business Enablement solutions.

Your business strategy, information, data, people, process and technology needs will be addressed through the provision of innovative cyber and digital capabilities.

With the right business enablement processes in place, you can swiftly launch new technology initiatives and ensure your internal systems keep pace with the modern workplace.
Quantum Evolve People-Based Security Services
Access Quantum Evolve's Consulting, Capability Development, and Technical expertise to cater for ever-changing business requirements, market dynamics, and emerging risks.

•People FlexSource – A flexible way of sourcing competences, saving you valuable time and effort.
• Scale, Deliver & Drive – Build end-to-end people-based services and implementations into your customers, nationally and globally.
• People, Process, Technology & Risk – A frictionless means to utilise Quantum Evolve's capabilities.
• Virtual & Onsite – Convert virtual and onsite resource requirements into action – faster.
• Provide – Value-based services within Digital, Cyber and Customer Transformation.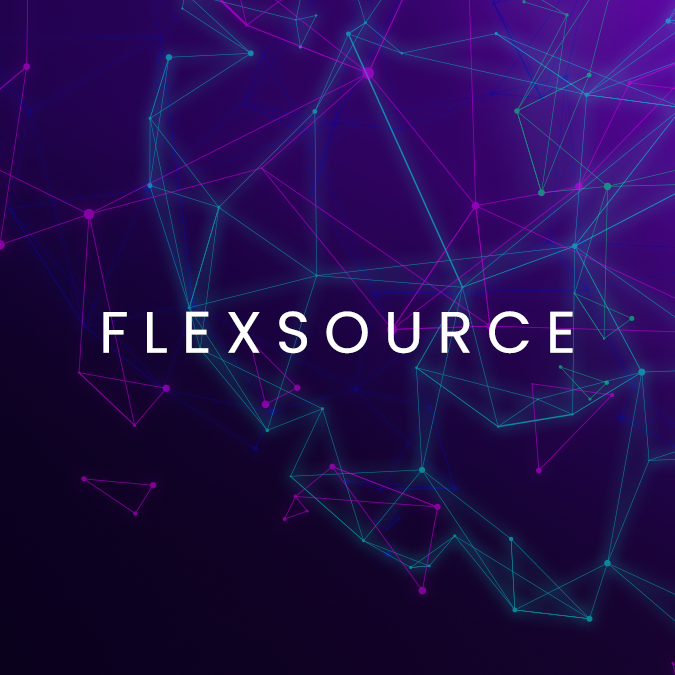 Quantum Evolve FlexSource
A simple method of acquiring people-based security services via the procurement of service credits and the most cost effective and efficient way of utilising Quantum Evolve's Products, People and Services.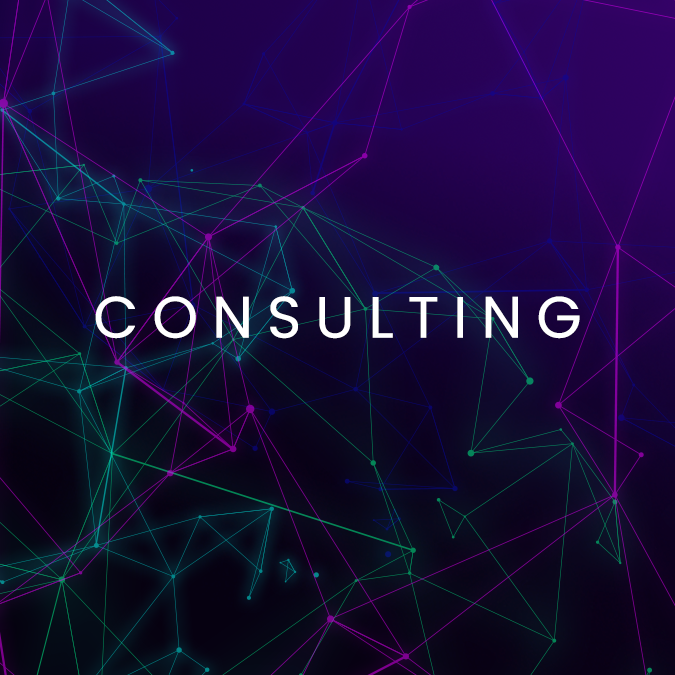 Quantum Evolve Consulting
• Quantum Evolve understands and analyses your business needs and provides you with solutions resulting in improved business resilience and success.

• Our Consulting Services offer you guidance and business enablement options that will influence and affect your business positively.

• Quantum Evolve's senior leadership includes CIOs, CISOs, CEOs who have a deep understanding of the corporate landscape spanning people, process and technology.

• All our Consultants are Subject Matter Experts who follow robust methodologies, come with rich experiences and a deep understanding of their specialities.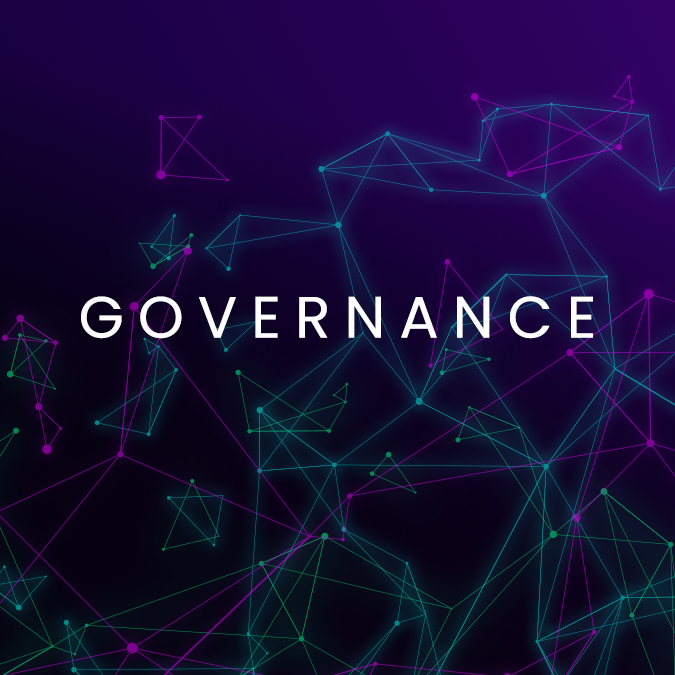 Quantum Evolve Governance
In today's Cyber Threat Landscape, ensuring compliance and strong governance is more important than ever
• Quantum Evolve can demonstrate the integrity of your security and compliance practices.
• Manage the increasing numbers of required or recommended certifications.
• Meet a new set of security standards.
• Manage the process of testing and verifying your compliance.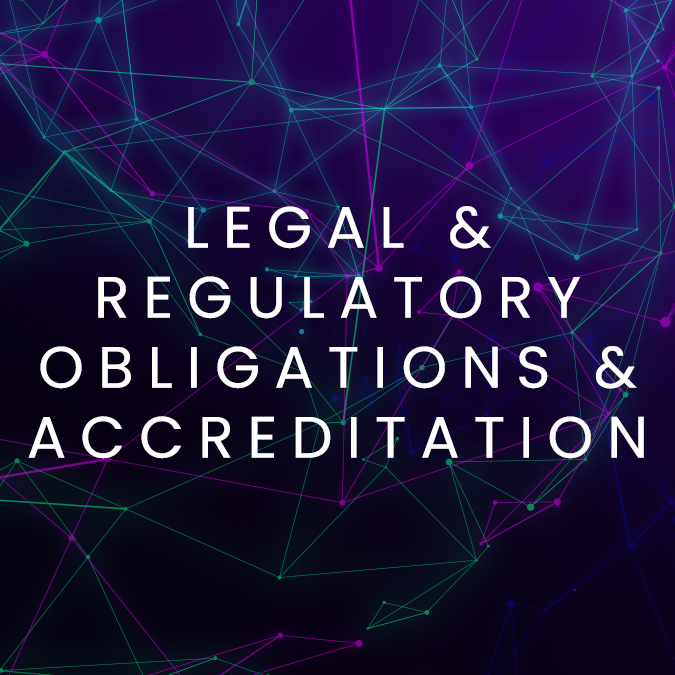 Quantum Evolve Legal & Regulatory Obligations & Accreditation
Quantum Evolve accreditation services are the best fit for your organisation if you are looking to align your business to the NIS Directive, Cyber Essentials etc., meet your Legal and Regulatory obligations or achieve Professional Accreditations.
Payment Card Industry Data Security Standards (PCI DSS)

ISO 22301 – Business Continuity

Cyber Essentials & Cyber Essentials Plus

UK Data Protection Act 2018

UK (and EU) General Data Protection Regulation (GDPR)

Privacy & Electronic Communication Act (PECR)

Cyber Security Awareness Training

Senior Manager Certification Regime

ISO 27001 – Information Security

NIS Directive

Health Insurance Portability & Accountability Act (HIPAA)

Anti-Money Laundering

Cyber Security for Business & Home Working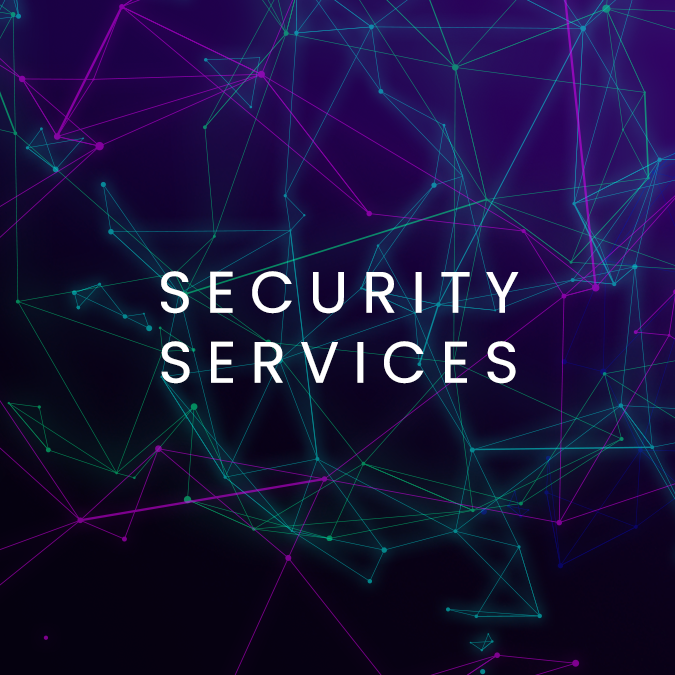 Quantum Evolve Security Services
Quantum Evolve provides you with the ability to form contextual and actionable Security Risk Mitigation via its ADPRG (Assess, Detect, Protect, Respond, Govern) approach.

Understand and overcome your business transformation challenges by gaining access to, and enabling and configuring Quantum Evolve's best practice security methodologies, services and solutions.
Achieve operational and commercial excellence through strategic and business consulting processes, thanks to the opportunities offered by Quantum Evolve's Digital Technology, and addressing your Cybersecurity needs.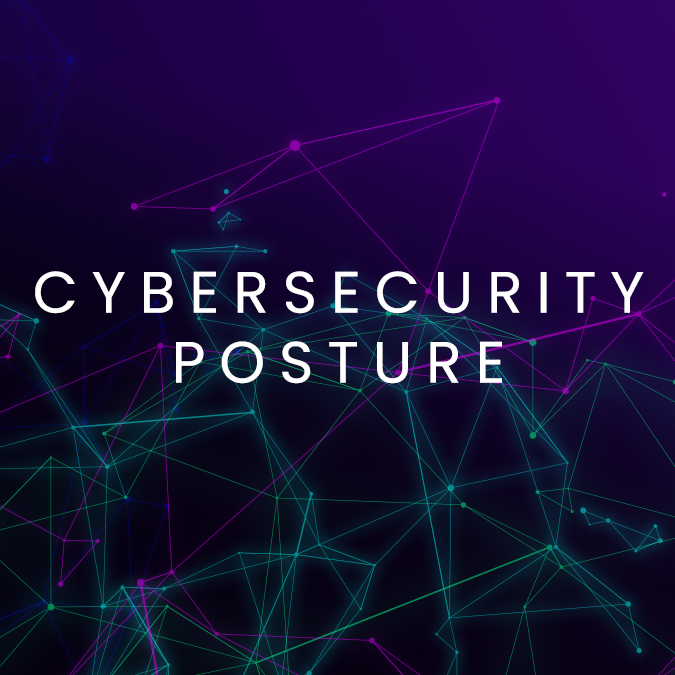 Quantum Evolve Cybersecurity Posture
Access a wide range of Quantum Evolve's capabilities that address the risks related to the security posture and footprint of your organisation.
To improve your Cybersecurity Posture in line with your risk appetite, Quantum Evolve will:
o Give you an independent and expert view of your capabilities.
o Identify vulnerabilities and understand your cyber risks.
o Identify enhancements against real-world cyber threats.
o Help you make decisions of what activities you need to prioritise
o Align with your strategy and keep your customer success high.
Quantum Evolve's Cybersecurity Posture Review includes:
o Estate Discovery.
o Advanced Digital Certificate & Key Discovery (Cryptography).
o Vulnerability Management.
o Phishing Posture Review.
o Phishing Awareness Review.
o Mobile Device Assessment.
o Governance, Risk & Compliance (GRC).
o Capability Enablement & Enhancement.
o Threat Hunting.
o CIS Benchmarking.
o Policy Evaluation.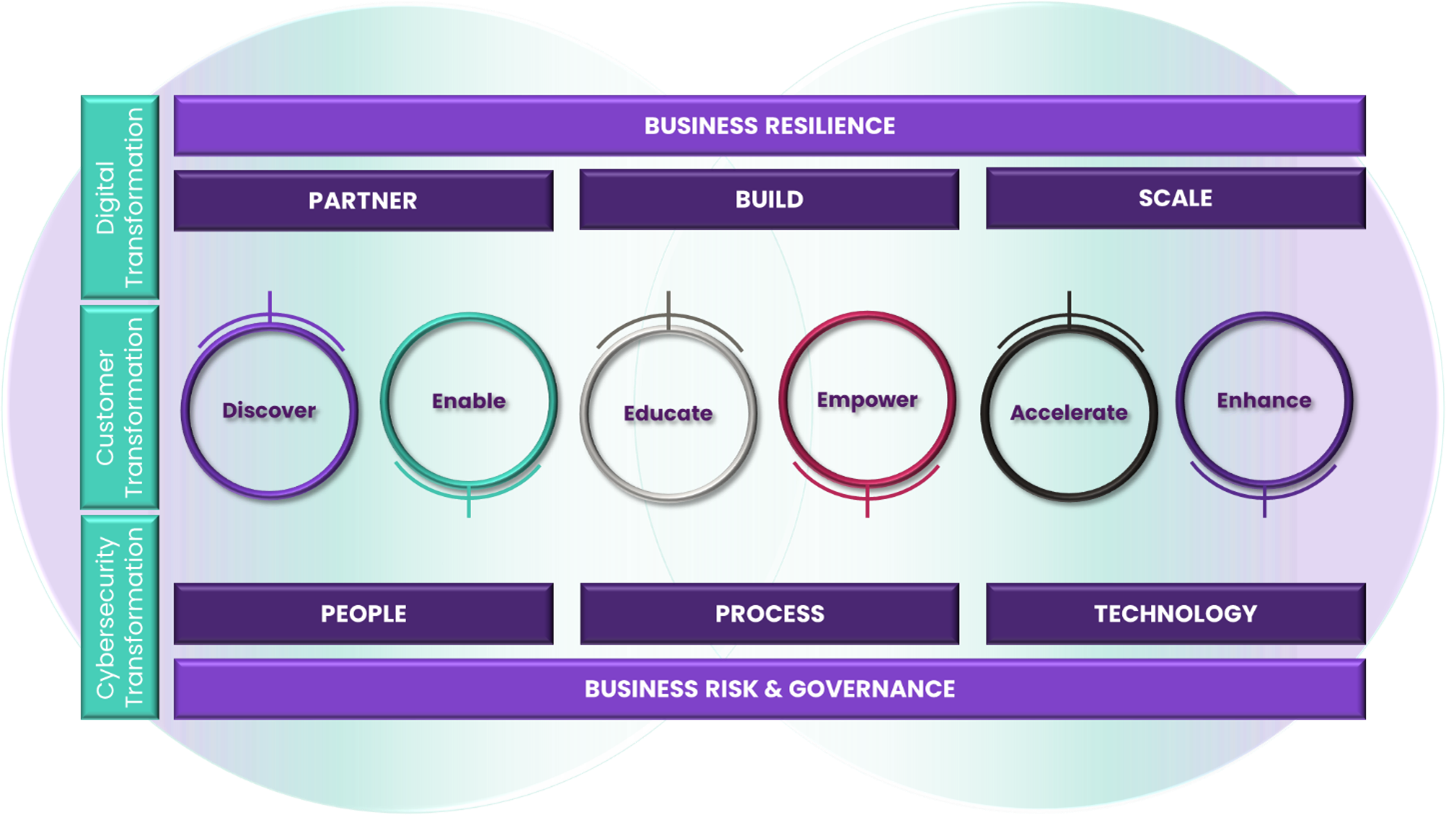 Why Partner with CMS & QUANTUM EVOLVE?
With expert knowledge and experience in Cybersecurity, CMS Distribution and Quantum Evolve are both trusted advisors within the IT industry and offer the highest levels of service and knowledge to both partners and their customers.

Quantum Evolve's dedicated team all have real world experience, having operated as Chief Information Security Officers (CISOs), Chief Information Officers (CIOs), Chief Operational Officers (COOs), Head of Information Security and on the front line of Law Enforcement.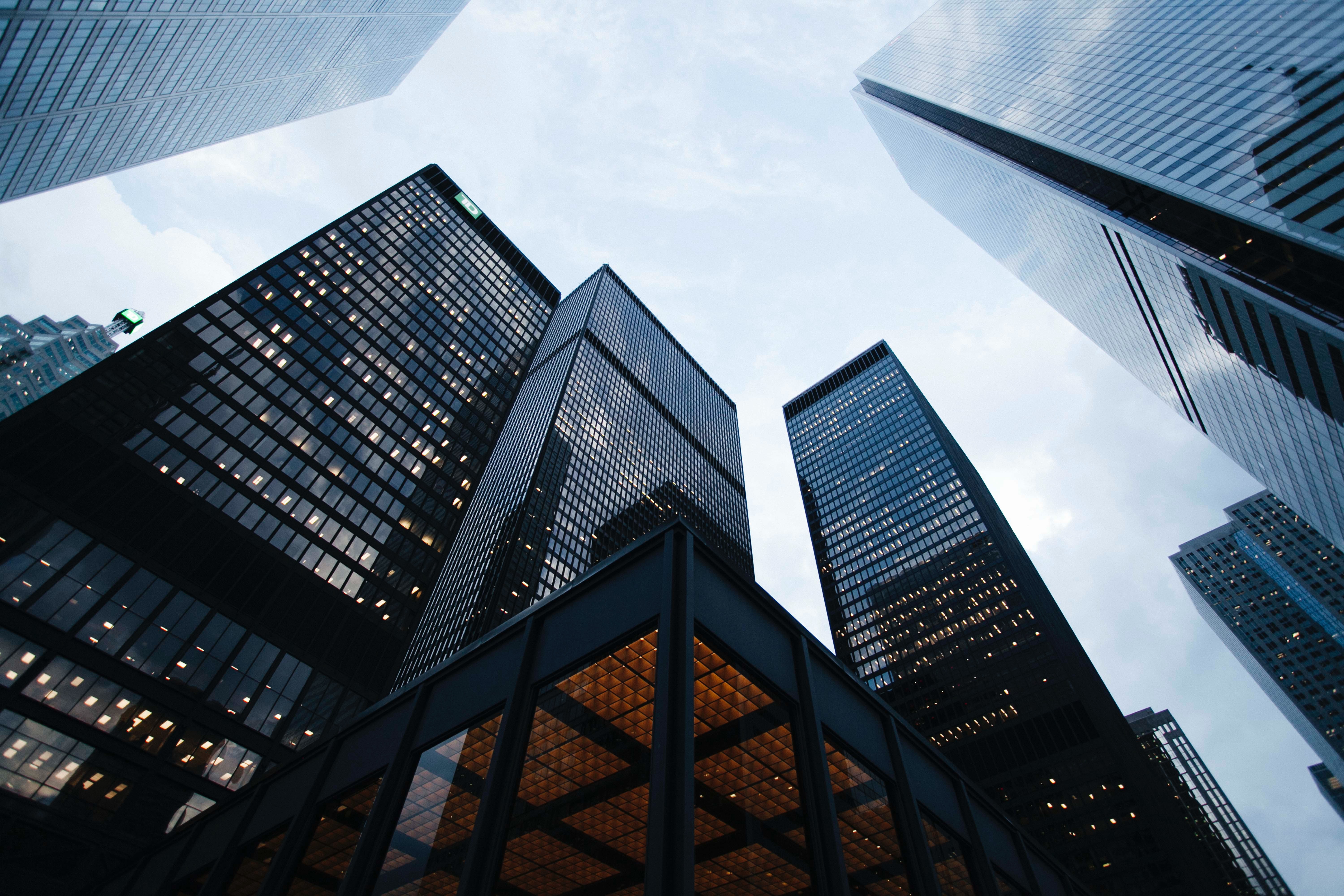 Our mix of Penetration Testers, Ethical Hackers and Researchers ensure that we are aware of emerging threats, alternative technologies and best practices, and they have also co-authored International Standards and contributed to the development of globally recognised Cybersecurity Best Practices.

This unparalleled knowledge and experience, enables us to provide peace of mind that enterprises have the resiliency and protection required to address the challenges of an ever-increasing threat landscape.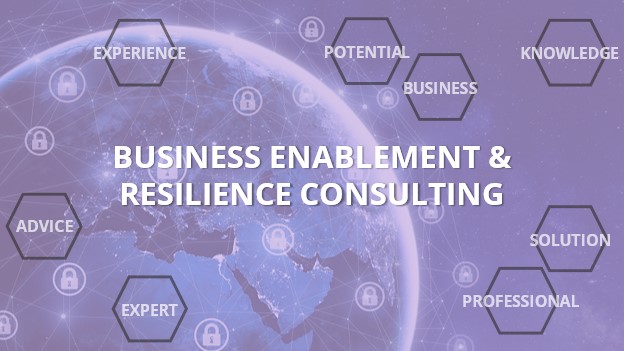 CMS through Quantum Evolve will deliver consultancy services and solutions, which will proactively help customers respond to the challenges of Cyber Resilience and Security Risks.

Being innovative and having a passion for bringing emerging technologies to market, we offer a wide range of specialisms and services to suit every customer. We can give customers our full attention and focus on their individual needs, rather than providing readymade solutions which can prove to be not fit for purpose or cost prohibitive. Tailoring our approach ensures that customers have the answers they need, so they can make informed choices.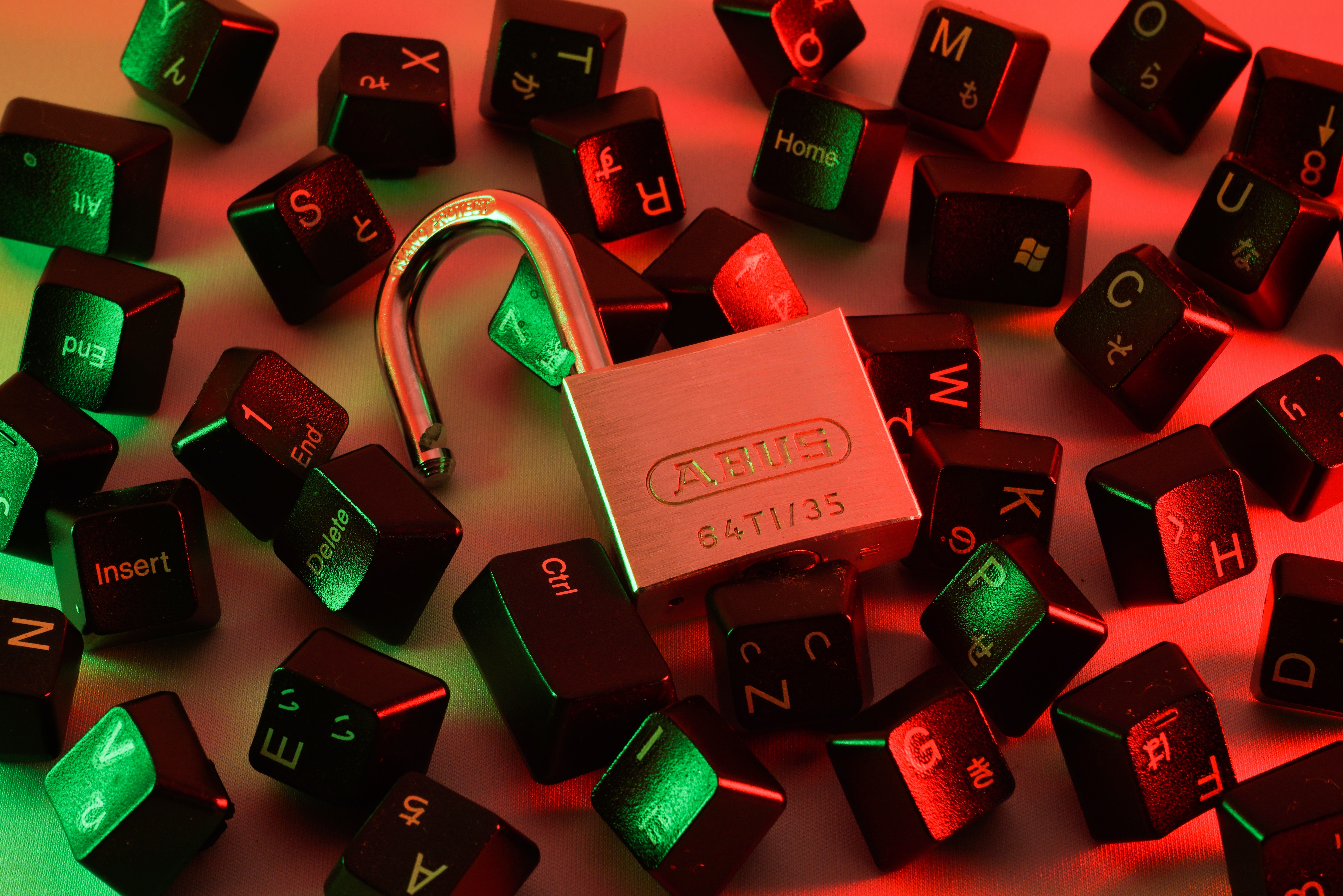 Quality of service is delivered by being more efficient, more human, and more consistent. The same helpful and responsive experts communicate with customers each time, so they get to know the people and the business through and through.

CMS and Quantum Evolve both take great pride in seeking out innovative technologies that deliver cost-effective solutions, enabling customers to succeed. Customers' changing needs are met by the partnership being more agile than most, with the freedom to act quickly, and offer a truly personal service.

We always take the initiative and act upon it, while embracing every challenge that comes our way.
GET IN TOUCH
Contact us to find out how we can develop your Quantum Evolve business