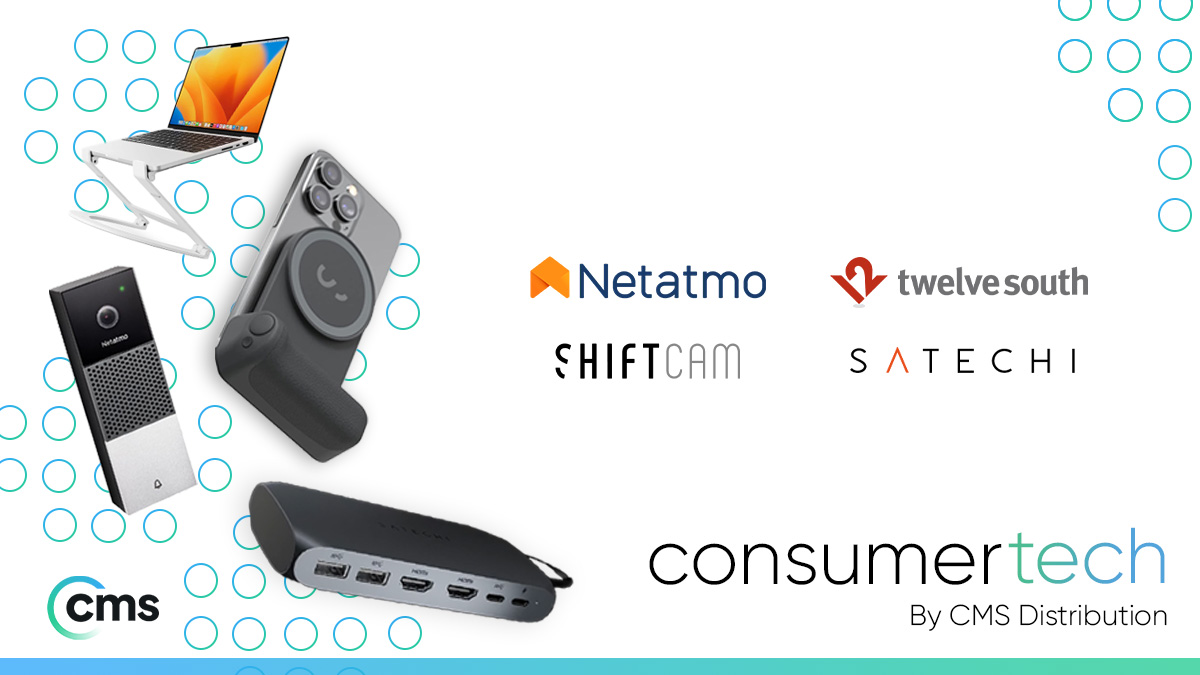 London, UK - Consumer Tech is a rapidly growing industry, driven by the increasing adoption of technology in our daily lives. CMS Distribution specialises in providing consumer tech and solutions to businesses across the globe, we offer a wide range of products and services to help businesses keep up with the latest consumer tech trends and innovations. Our vendors are a perfect fit for the growing range of products, and CMS are thrilled to offer their customers even more cutting-edge technology solutions.
Who are they?
Netatmo is a technology company who develops ground-breaking, intuitive and beautifully-designed connected consumer electronics. Their innovative products provide a seamless experience that helps users create a safer, healthier and more comfortable home. Netatmo carefully design the mechanics, electronics and embedded software of all products to the highest standards. Our mobile and web applications are designed to be simple to operate, yet deliver a rich user experience. Netatmo's product range includes indoor and outdoor security cameras, smart thermostats, weather stations, and air quality monitors. Shop Now.
ShiftCam is known for producing high-quality accessories that enhance the photography capabilities of smartphones. They provide a wide range of lenses, mounts and lights designed to help users capture high-quality images and videos using their smartphones. These accessories are a great way for smartphone users to take their photography to the next level. They are convenient, compact, and comprehensive, making them perfect for photographers of all skill levels who want to capture the world around them in a more creative and compelling way. Shop Now.
Satechi has become a leader in the consumer electronics industry; as one of the first consumer electronics brands to design and produce USB type-c products Satechi has built a reputation for itself by providing customers with high-quality, reliable products that meet their technology needs. Satechi's products are designed to be compact and sleek, which makes them the perfect companions for all types of devices, including laptops, tablets, smartphones, and other electronic devices. The company's award-winning range of products includes interface hubs and multi-port adapters, wireless charging devices, computer peripherals, such as keyboards and mice, laptop stands, and more. Satechi's products are designed to meet the needs of modern-day consumers who require functional and stylish technology products. Shop Now.
Twelve South is known for its innovative and stylish product designs that offer both protection and personalisation, while also remaining functional. Their product range includes laptop and tablet stands that provide a comfortable viewing angle, wireless phone charging picture frames allow you to charge your phone while displaying your favourite photos, smartwatch stands and accessories that not only protect your smartwatch but also enhance there functionality. Twelve South's products offer useful solutions to everyday problems, while also delivering a sleek and stylish look. Shop Now.
Get in touch:
Satechi, Twelve South – Jordan Druce, jordan.druce@cmsdistribution.com
ShiftCam – Regan Ring, regan.ring@cmsdistribution.com
Netatmo – Enrique Piedrafita, enrique.piedrafita@cmsdistribution.com